< Back
Where and How to Watch Sound of Freedom
by Angel Studios | October 18, 2023
Sound of Freedom took the summer box office by storm, generating over $216 million in global box office revenue since its domestic theatrical release on July 4. Directed by Alejandro Monteverde, the film brings to light the true story of a federal agent played by Jim Caviezel who embarks on a dangerous mission to rescue a captive child after saving her brother from ruthless child traffickers.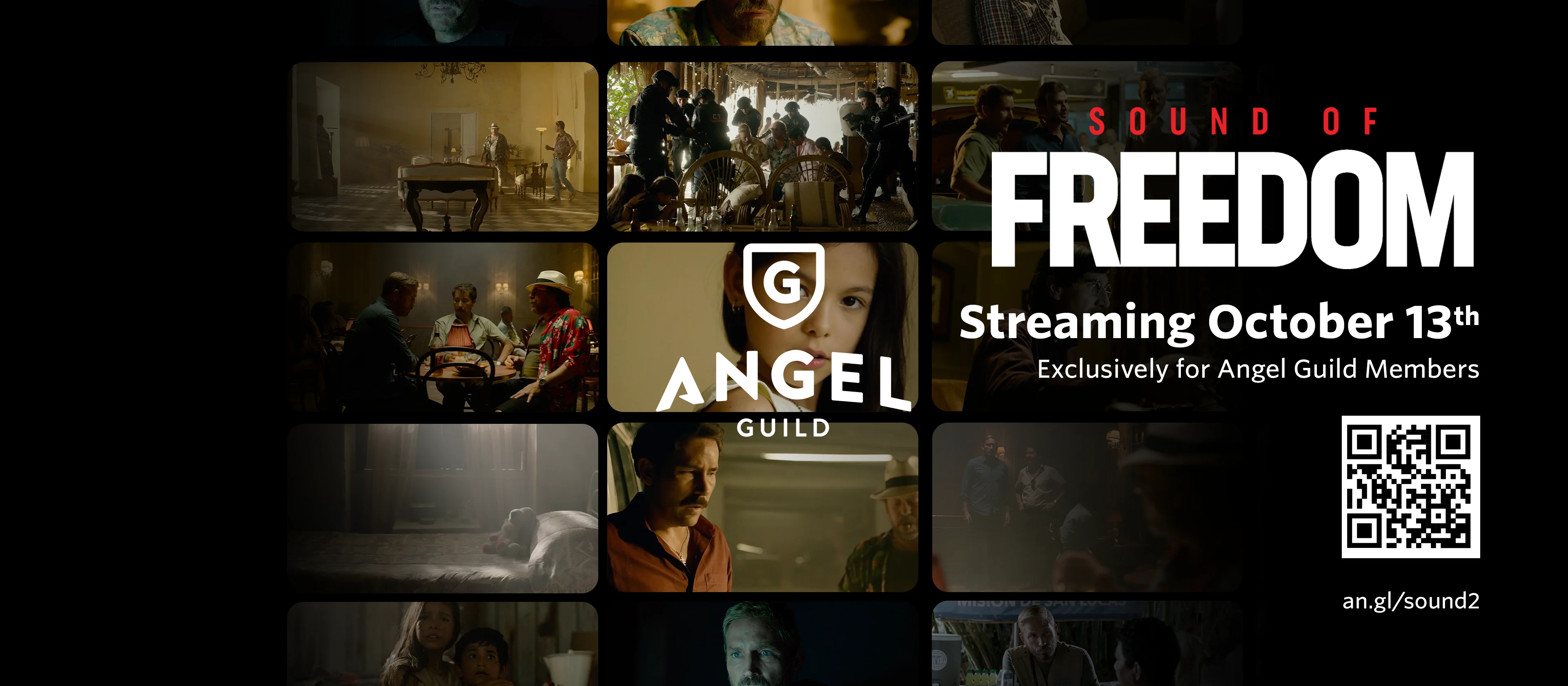 Where and How to Watch Sound of Freedom
If you're eager to watch Sound of Freedom and wondering where to access it, you've come to the right place. In this blog, we'll guide you through the available streaming platforms, pre-order options, and alternative methods to get your hands on this inspirational film. 
Available Streaming Platforms
Sound of Freedom made a splash at the box office with over 180 million dollars domestically, making it one of the best independent films ever made. Now it's time to bring this film directly to your living room. Starting October 13, the Angel Guild will have an exclusive viewing window via the Angel Studios app, allowing you to dive into this compelling story before anyone else.
The Angel Guild's Exclusive Access
Angel Studios' platform empowers filmmakers and audiences, allowing the Angel Guild to greenlight and make Sound of Freedom a tremendous success. The Angel Guild has the power to approve projects and decide what's presented to the audience. They are given the exclusive privilege of early access to this film before its wider release across leading digital platforms and retailers.
To find out how you can become a member of the Angel Guild, go to angel.com/guild.
Digital Purchase
For those who want to own their copy, digital purchase will be available starting November 3. This means you can have Sound of Freedom at your fingertips, ready to watch whenever on your favorite devices.
Buy Sound of Freedom today!
DVD and Blu-ray Release
If you prefer the physical format, you can mark your calendar for November 14. The movie will be available on DVD and Blu-ray, which you can purchase through shop.angel.com, Walmart, Amazon, and various other major retailers.
Digital Rental
Digital rental (TVOD) is scheduled for December 15. This offers a flexible option for those who prefer to rent and watch on their preferred platforms.
Sound of Freedom Reviews and Ratings
Sound of Freedom has not only performed exceptionally at the box office but has also garnered attention and praise from both critics and audiences. Critics have applauded the movie for its compelling storytelling, powerful performances, and its commitment to shedding light on the issue of child trafficking. Audiences have been deeply moved by the film's emotional impact and its dedication to highlighting this critical cause.
Here is what critics and audiences had to say about Sound of Freedom.
"No one could have foreseen this level of success for Sound of Freedom." -Box Office Pro
"I respect Angel Studios for creating the "Pay it Forward" campaign. That helped me take 50 low-income, at risk youth to watch this movie.  Many of our teens were moved, and few were in tears. God bless everyone who put this movie together." -Fan of Sound of Freedom
"Most powerful story I've ever witnessed." -Enrique Santos, President of iHeart Latino
"If there's one issue that can unite everyone, it's ending child trafficking." -Alejandro Monteverde and Rod Barr, The Hollywood Reporter
Behind the Scenes of Sound of Freedom
If you're fascinated by the filmmaking process, Sound of Freedom offers a captivating behind-the-scenes journey. You can explore the production process, gain insights into the director's vision, and hear from the actors who brought this powerful story to life.
To learn more about the true story behind the film, check out our behind the scenes glimpse into the characters to get a closer look at the characters that made this film so special.
Sound of Freedom: A Must-Watch
Sound of Freedom appeals to various audiences.
Fans of True Story Adaptations: If you're a fan of true stories brought to life on the big screen, Sound of Freedom will not disappoint. This movie serves as a powerful reminder of the incredible stories that can be found in real life.
Supporters of Human Rights Initiatives: The film's focus on child trafficking and the efforts to combat it make it a must-watch for those passionate about human rights and social justice.
Those Seeking Emotional and Inspiring Films: If you're looking for a movie that will tug at your heartstrings and leave you inspired, Sound of Freedom is an excellent choice.
As you prepare to embark on this unforgettable journey with Sound of Freedom, you have a variety of options for enjoying this remarkable film. Whether you choose to stream it, purchase a digital copy, buy the DVD or Blu-ray, or opt for digital rental, you can be part of a heartwarming and impactful story.
Stay updated and engaged with Angel Studios' entertainment, explore their projects, and learn more about how to Pay it Forward. You can be a part of a community that supports and celebrates the power of storytelling.
In a world where stories have the potential to change lives, Sound of Freedom is a movie that not only entertains but also inspires, educates, and makes a difference. Don't miss the chance to watch this extraordinary film that's making waves around the world.
Your choice to Pay It Forward keeps Sound of Freedom free around the world.