< Back
Everything You Need to Know about Cabrini the Movie
by Angel Studios | August 24, 2023
Compassion. Resilience. Determination. Three words to describe one of the greatest women of the 19th and 20th centuries with an inspiring film coming soon from Angel Studios, Cabrini.

Read on to learn more about the first American saint; her rags-to-riches story as she rose to entrepreneurship; her mission to lift the poor and orphaned; her fight against misogyny, bigotry, and classicism; and why this stunning biopic will be one of the most inspiring watches of the decade.
What is Cabrini the Movie?
The movie Cabrini, an upcoming release from the studios that brought you films like His Only Son and The Shift, is based on the inspiring true story of a woman's fight for humane treatment, better living conditions, and increased compassion for immigrant orphans at the turn of the 20th century. Directed by Alejandro Monteverde—the director of national phenomenon Sound of Freedom—Cabrini follows Francesca Cabrini, an Italian immigrant whose heart and ambition helped her to build an empire of compassion for the least fortunate of New York City.

Eventually becoming the first American saint of the Catholic Church and one of the most inspiring entrepreneurs in American history, Cabrini devoted her life to fighting for the happiness and health for individuals in the margins of her society. Her determination to serve those in need—and fight the obstacles and bigotry that stood in her way—will inspire all audiences to fight harder and love better. 
What is Mother Cabrini's Real Name?
Who was the titular character of Cabrini? Cabrini's real name is Francesca Xavier Cabrini (also referred to as Frances Cabrini.) A nun serving under Pope Leo XIII, and the daughter of a farmer from Lombard, Cabrini hailed from Italy and immigrated to New York, where she completed the bulk of her service. After her death, Cabrini attained sainthood as an American citizen, and has hereafter become known as Mother Cabrini or the Patron Saint of Immigrants. 
Cabrini 2024 Cast
The movie Cabrini is presented by an impressive, star-studded cast sure to make the film an unforgettable experience for all. 
Cristiana Dell'Anna 
Bringing to life the titular character of Cabrini is Italian actress Cristiana Dell'Anna. Hailing from Naples, Dell'Anna is known for the action series Gomorrah and Trust, and for the film Mr. Happiness.
David Morse 
Playing Archbishop Corrigan is David Morse, an award-winning actor that brings to Cabrini a decades-long career and immeasurable talent. Morse is known for The Green Mile, World War Z, and Contact.
Giancarlo Giannini 
In the role of Pope Leo XIII is talented Italian actor and director Giancarlo Giannini. Giannini is known both for his hits in Italy and for his work as an Italian dubber for countless American blockbusters, and he also appeared in Daniel Craig's James Bond franchise.
John Lithgow
An exciting addition to the cast of Cabrini is prolific, award-winning actor, writer and producer John Lithgow, known for his roles in hallmark projects such as 3rd Rock from the Sun, The Crown, and Terms of Endearment. Lithgow lends to this cast more than five decades of experience, and will portray Mayor Gould in Cabrini. 
When Will Cabrini be Released?
Cabrini will be released exclusively in theaters March 2024 and will remain in theaters as long as there's a demand. 
We want everyone to get to know Cabrini and learn from her incredible life, and you can help us make it happen. Pay it Forward to help others get tickets, and to help us keep Cabrini in theaters for as long as we can. This system, extremely successful with Angel Studios projects His Only Son and Sound of Freedom, allows us to maximize the reach of these inspirational films. 
How Can I Watch the Cabrini Movie?
We're beyond excited to share the Cabrini film with you. At Angel Studios, our most important mission is to share stories that amplify light, and the inspiring journey of Cabrini is full of the kind of light that the world so desperately needs. 
Sign up for updates on the film's release to make sure you'll get a chance to experience Cabrini on the big screen, and Pay it Forward to help extend the movie's time in theaters.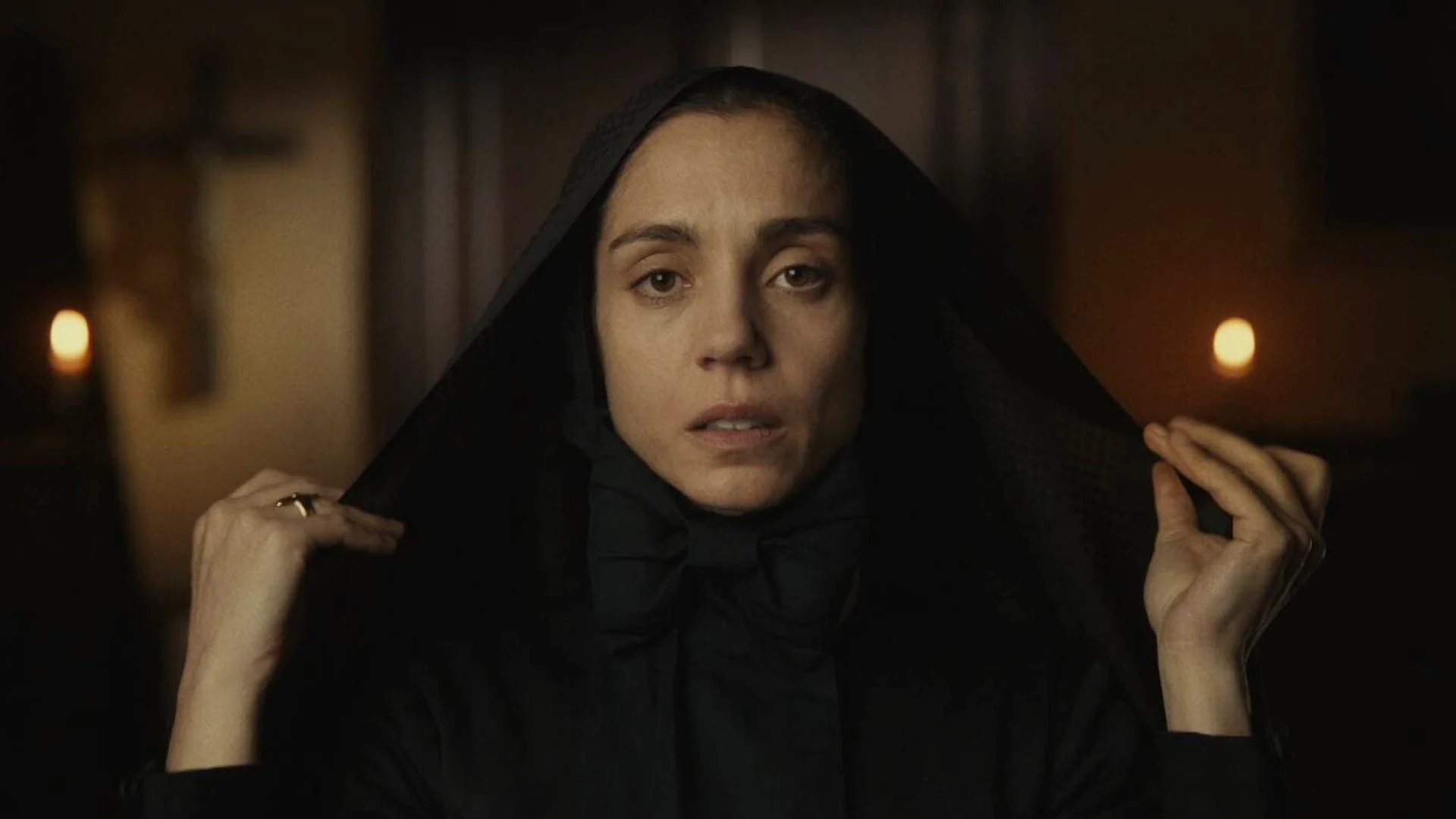 Is the Cabrini Movie Based on a True Story?
The movie Cabrini is based on the rich, inspiring true story of Francesca Xavier Cabrini, the first American saint. The film represents the very real events of Cabrini's life, her mission, and her service among the Italian immigrants of New York City.

According to the website of the organization dedicated to Cabrini, Francesca Xavier Cabrini was born in 1850 in the village of S'ant Angelo Lodigiano, located near Milan, Italy. She was the youngest of thirteen, and wanted more than anything to join a Catholic order and serve her God and her church. Cabrini desired to serve under the Daughters of the Sacred Heart—an order that had taught and mentored her—but was in too poor of health to join their ranks. 
Cabrini did not let these initial setbacks keep her down. In 1880, she and seven other sisters founded their own order: the Institute of the Missionary Sisters of the Sacred Heart of Jesus. Her scrappy and determined efforts led her to meet with Pope Leo XIII. Though she and her sisters initially requested to be sent as missionaries to China, the Pope sent the Sisters to New York to serve thousands of Italians who had immigrated to the States. 
Immigrants in New York—particularly those from Italy, whom Cabrini and the rest of the Sisters were charged with serving—were severely poverty-stricken. Cabrini set out to provide for the orphans, and also to offer education for all the immigrants. Eventually, she established 67 schools, hospitals, and orphanages around the world. Cabrini worked tirelessly for the betterment of the world until her death in 1917. She was canonized as a saint in 1946, and named Patroness of Immigrants in 1950.
What Religion was Mother Cabrini?
Cabrini, along with other individuals throughout history that have been classified as saints, belonged to the Catholic Church. There are many factors and an extensive process that go into selecting and canonizing a Catholic Saint; the individual must be either a martyr, or be widely known for their sanctified and holy life. An investigation is conducted by the clergy to identify a saint's worthiness, and the final decision is made by the sitting Pope. Cabrini's canonization was completed by Pope Pius XII. 
What Was the Miracle of Mother Cabrini?
What was the miracle that helped to cement Cabrini's sainthood? 
The first miracle associated with Cabrini was the healing of an infant, after Cabrini's death, in New York City. According to Catholic Exchange, an hours-old newborn had been administered what was thought to be the appropriate eye drops after birth. The doctors and nurses noticed, however, that a horrific error had been made: the baby had been given drops of a highly concentrated silver-nitrate solution, which had begun to eat away at the baby's eyes and facial tissue. Hospital staff tried in vain to remedy the situation, as the solution had already destroyed any chance of the child being able to see for the rest of his life. 
Desperate, the doctor called the Sisters that ran the hospital, which had been founded by none other than Francesca Cabrini. They all prayed to Cabrini, who had been dead for three years, for help for the poor baby. In the morning, the hesitant doctors lifted the baby's eyelids, and found that he had been perfectly healed.
Soon after, the same infant had come down with a serious case of pneumonia. After another intense night of prayer, the pneumonia disappeared.

While Cabrini is a saint of the Catholic Church, she is a hero to so many people. Her influence spreads far and wide, inspiring people in their faith (including Mother Teresa), their work ethic, and their community service. 
Excited for more wholesome, refreshing entertainment? Check out all our upcoming projects and discover a whole new world of inspiring entertainment. 
Your choice to Pay It Forward funds future seasons and keeps Cabrini free around the world.