< Back
Learn More About the Comedian Leanne Morgan
by Angel Studios | September 20, 2023
Leave your cares behind as witty Southern Belle Leanne Morgan takes you on a journey through the absurd intricacies of everyday life, poking fun at Weight Watchers, menopause, and countless other relatable experiences. One of the incredible clean comedians delivering family-friendly laughs as part of Angel Studios' Dry Bar Comedy, Morgan is sure to have your whole family in fits as she infuses the mundane with salty-sweet humor and plenty of southern charm. 
Learn more about the life, comedy, and unique rise of Leanne Morgan, the hilarious Gen X mom-turned-stand-up comic confidently earning her place as queen of southern female comedians. 
Who is Leanne Morgan of Dry Bar Comedy?
This side-splitting mom came into the world of comedy from unlikely origins. Comedian Leanne Morgan has been referred to as the "funniest woman in the South," and has referred to herself as the "Mrs. Maisel of Appalachia" due to the jokester's swift and unexpected rise in popularity. 
Morgan was raised on the border of Tennessee and Kentucky. She recalls seeing country music stars out and about—due to her close proximity to the famed country hub of Nashville, TN—and knew she wanted to be a star from a young age.
The tall, blonde comedian attended the University of Tennessee before moving, with her husband, to the Appalachian Mountains and starting a family. Morgan started selling jewelry for a little extra cash, and her friends soon discovered that she was absolutely hilarious.
Before Leanne knew it, she was being booked to do stand-up at her friends' parties. Not too long after—at the age of 32 and with three kids—Leanne officially entered the world of stand-up comedy, going on to receive her own Netflix special, open for Jeff Foxworthy, and sell out her own shows.
Leanne Morgan, The Southern Mom Who Will Leave You Laughing
Leanne Morgan's humor comes from her precious experience as a mom and a Gen X woman. Influenced heavily by Jim Gaffigan and the casts of Saturday Night Live, Leanne applies her expert wit and a heaping spoonful of sweet Southern charm to her musings on motherhood, menopause, growing up in the '80s, and more. 
Her bits cover everything from failing at Weight Watchers to "concerts with old people" to being too tired for intimacy, as well as every phase of life her family has passed through, from pooping after childbirth to having grandkids and being the mother-of-the-groom. Her relatable comedy has struck a chord, especially with mothers and women of her generation and beyond. Leanne wants moms and older women to know they still have life ahead of them, and they still have so much to offer. 
The Tennessee native is careful to keep her material clean and free of divisive political content, creating a place of unity and laughter for women and men of all walks of life, who look back fondly on the '80s and need a little vacation from their kids. Leanne employs expressive hand gestures, as well as a hefty dose of self-mockery, to drive her comedy home and comfort the audience about the highs and lows of parenthood and aging.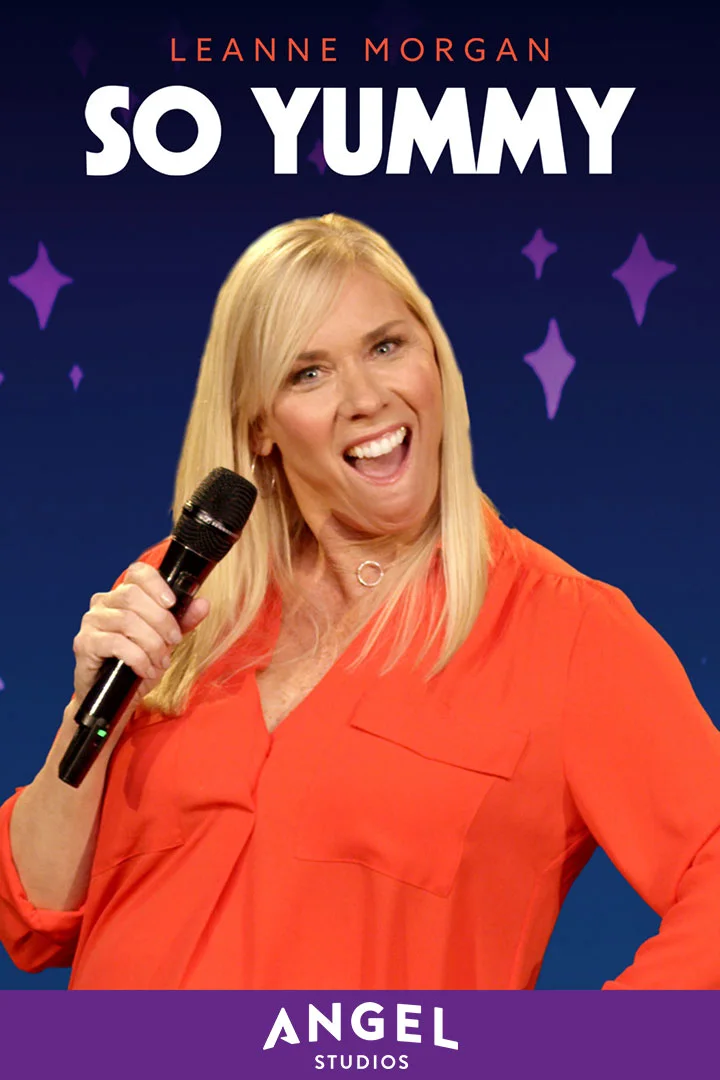 Leanne Morgan: "So Yummy"
Dry Bar Comedy is excited to include one of Leanne Morgan's most hysterical specials, "So Yummy." Oozing her southern charm and delivering witty quips on the most relatable of topics, Leanne Morgan is an absolute joy to laugh along with. 
Leanne's naturally hilarious demeanor adds a sunny finish to her takes on life in Suburbia: namely, keeping her family happy, taking care of the dogs, and multitasking 'til she drops. Only Leanne can put a priceless, side splitting spin on trying to take her kids to cheerleading camp, while trying to make her hair appointment and colonoscopy, and restart her Weight Watchers journey—again. 
"So Yummy" is free to stream on the Angel Studios app or website. 
If You Like Leanne Morgan, Watch These Comedians
Can't get enough of Leanne Morgan's clean & witty humor? You'll love these other jokesters at Dry Bar Comedy.  
Brad Upton 
A former elementary school teacher is about to become one of your family's favorite comedians. Over the course of a three-decade career, Brad Upton has delighted audiences with more than 6,000 comedy shows. Best recognized as the Boomer delivering clever roasts to millennials in this viral video from 2018, Brad delivers hilarious commentary on generational gaps that's funny for all ages. You can stream his Dry Bar Comedy special, "Will Be Funny for Money," for free.
Kevin Jordan
You have the right to remain entertained. Kevin Jordan, AKA the "world's funniest police officer," is known far and wide for his hysterical takes on family life, cop life, and more. Enjoy comedy that's graced Comedy Central, Today Show, VH-1 and MTV. Stream his Dry Bar Comedy special "Cause I Said So!" for free, and prepare for a night of family-friendly hilarity. 
Karen Morgan
Looking for clever quips on topics ranging from Zumba class to bowel prep? Look no further than Karen Morgan. A licensed attorney and a former finalist on Nickelodeon Television's "Search for the Funniest Mom in America," Karen Morgan has built an impressive career making fun of everyday absurdities. Run, don't walk to stream her Dry Bar Comedy special "Go Dawgs!" for free.
Watch More From Dry Bar Comedy
Dry Bar Comedy has something for all ages. No matter your sense of humor, we have comedians who will have you and your family rolling on the floor in minutes. Check out our expansive collection of clean comedians sure to bring the laughs, and stream their specials for free in the Angel Studios app. 
Rep your favorite comics—and look sharp doing it—with official Dry Bar Comedy merchandise, including apparel, keychains, and more. 
Want to see more content from Leanne Morgan and her friends at Dry Bar? Pay it Forward and help us produce media that amplifies light and brings families together. 
Your choice to Pay It Forward keeps Angel Studios free around the world.