< Back
12 Family Friendly Comedians You'll Love
by Angel Studios | June 21, 2023
If you're looking for family-friendly stand-up comedy, Dry Bar Comedy has you covered! As one of the fastest-growing stand-up comedy streaming series ever, Dry Bar is filled with clean-comedy geniuses that the whole family will enjoy.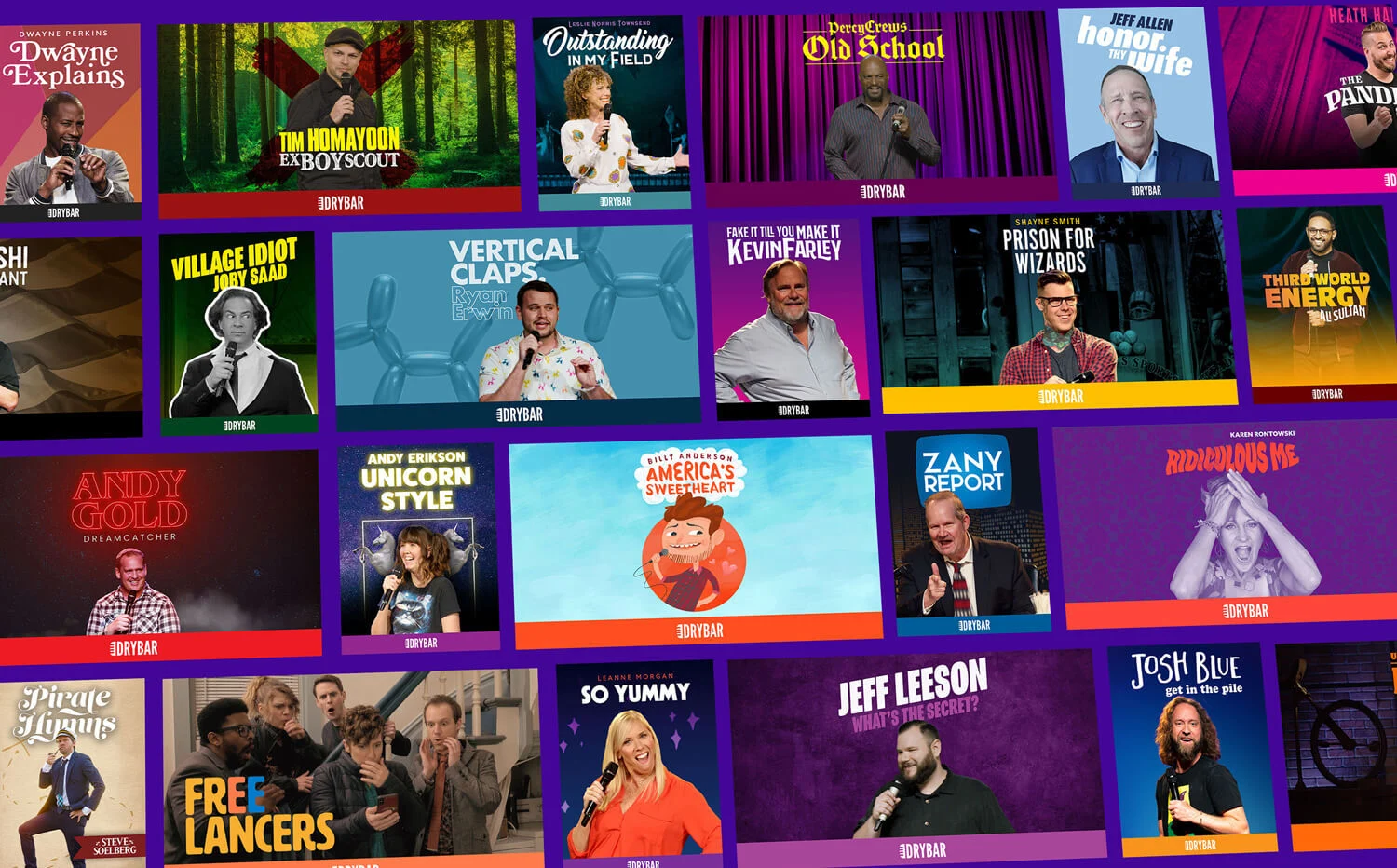 Here are 12 of our favorite family-friendly comedians:
Brad Upton

JJ Barrows

Jose Sarduy

Jim Gaffigan

Leanne Morgan

Kevin Jordan

Jeff Allen

Nikki Carr 

Cam Bertrand

Brian Regan

Karen Morgan

Jasmine Ellis
The Funniest Family-Friendly Comedians
Brad Upton 
With nearly 6,000 shows performed and over 30 years of stand-up comedy under his belt, Brad Upton is just getting started! A former elementary school teacher turned comedian, Brad is most recognized as the Boomer who roasted Millennials in this viral 2018 clip.
Brad continues to be the voice of reason for Boomers everywhere as he hilariously comments on the generational differences we encounter every day. This is peak family-friendly comedy that can be enjoyed at any age!  
See his Dry Bar Comedy special "Will Be Funny for Money" here. 
JJ Barrows
JJ Barrows' stand-up routine adds a fresh perspective to the comedic world—not only as a preacher's daughter raised in South Carolina, but as a bad case of middle child syndrome, not to mention her hilarious anecdotes about being single in her thirties. This is a stand-up comedian every family member can relate to. 
See her Dry Bar Comedy special "Doodle All Day" here.
Jose Sarduy
Jose Sarduy is a Cuban-American Air Force pilot turned comedian and, as you can guess, he's got no shortage of stories. That's why he's at Dry Bar delighting audiences with hysterical tales of planes, Priuses, and penguins.
See his Dry Bar Comedy special "Cuban Pilot" here.
Jim Gaffigan
No one can replicate Jim Gaffigan's dry tone and side-splitting sarcasm. A father of 5, Jim is a three-time Emmy-winning comedian, actor, writer, and producer with a knack for putting a hilarious spin on the ordinary. Jim's sets often riff on fitness, laziness, the ins and outs of fatherhood, religion, and food. His clean humor includes very little profanity, which has made Jim Gaffigan a tried-and-true favorite of families across America.
See a trailer for his Netflix special "Cinco" here.
Leanne Morgan
Leanne Morgan is a southern belle with charm to spare. Leanne's stories about suburban life will have you in stitches, whether she's detailing the challenges of keeping her husband and kids happy, taking care of the dogs, or any number of the other things on her plate.
See her Dry Bar Comedy special "So Yummy" here.
Kevin Jordan
Want to get to know the "World's funniest police officer?" Kevin Jordan–an award-winning comedian and former Los Angeles Police officer–has appeared on the Today Show, Comedy Central, MTV, VH-1, and more. While wrapping up his career in the police force, Kevin juggled his day job and comedy, remarking that "When [he] pulled someone over [he] didn't know whether to write them a ticket or tell them a joke!" Kevin's charismatic takes on being a police officer and a family man will have your family roaring.
See his Dry Bar Comedy special "Cause I Said So!" here.
Jeff Allen
Jeff Allen is a fan-favorite Christian comedian that presents a perfect blend of clean and hilarious content that leaves audiences cackling. Jeff performs his riffs on marriage and family life at fundraisers, corporate functions, casinos, and on radio and television.
See his Dry Bar Comedy special "I Can Laugh About It Now" here.
Nikki Carr 
Nikki Carr uses her own experiences and her reflections on everyday challenges to create a hilarious, one-of-a-kind experience for her audience. Carr has performed worldwide over her 20+ year career, cementing her place as an international comedy star.
See her Dry Bar Comedy special "I Wish These Were Jokes" here.
Cam Bertrand
A 23-year-old spitfire with a lot to say, Cam Bertrand entertains like no other with his hysterical outlook on life and relationships in a way that will have the whole family in fits. 
See his Dry Bar Comedy special "Sophisticated Ignorance" here.
Brian Regan
Brian Regan is the master of expressive comedy. Known for his hilarious body language and creative observational humor, Brian has been a family favorite for over a decade. Enjoy as he paints the most ordinary parts of life in humor and zest, in the perfect blend of clever writing and physical comedy.
See a trailer for his Netflix special "On the Rocks" here.
Karen Morgan
Laugh along with one of the finalists on Nickelodeon Television's "Search for the Funniest Mom in America." Karen Morgan's incomparable humor is streaming across platforms, and she's appeared on TV in shows and commercials alike. 
See her Dry Bar Comedy special "Go Dawgs!" here.
Jasmine Ellis
Rediscover the world through the eyes of Jasmine Ellis, a highly entertaining comedian whose unapologetic takes on being a newlywed millennial and her work habits will have your family in hysterics.
See her Dry Bar Comedy special "Nobody's Queen" here.
Find Family Friendly Comedy at Dry Bar!
Whatever your favorite type of joke or bit, Dry Bar Comedy is the ultimate source of stand-up comedy for kids and adults alike and has the perfect jokesters for you. Dive into our vast collection of the best clean comedians around, and you and the whole clan won't even stop giggling. Click here to check out our extensive library of family-approved laughs.
Your choice to Pay It Forward funds future seasons and keeps Angel Studios free around the world.