< Back
Tuttle Twins: Teaching Your Kids About The Gold Standard
by Angel Studios | November 9, 2023
Tuttle Twins fans, prepare for an exciting new minisode featuring everyone's favorite four-legged vigilante, Dark Dumpster Derek! Ethan and Emily are filming an exciting new Dark Dumpster Derek adventure, in which the masked hero goes head-to-head with the gold-hungry Worm Burglar. Confused about the value of using gold as currency, especially for kids, Ethan and Emily pay a visit to George Washington. The first president teaches the twins about the history of gold as money in the United States, and they learn that owning and paying with gold is far more doable than they think—even for kids!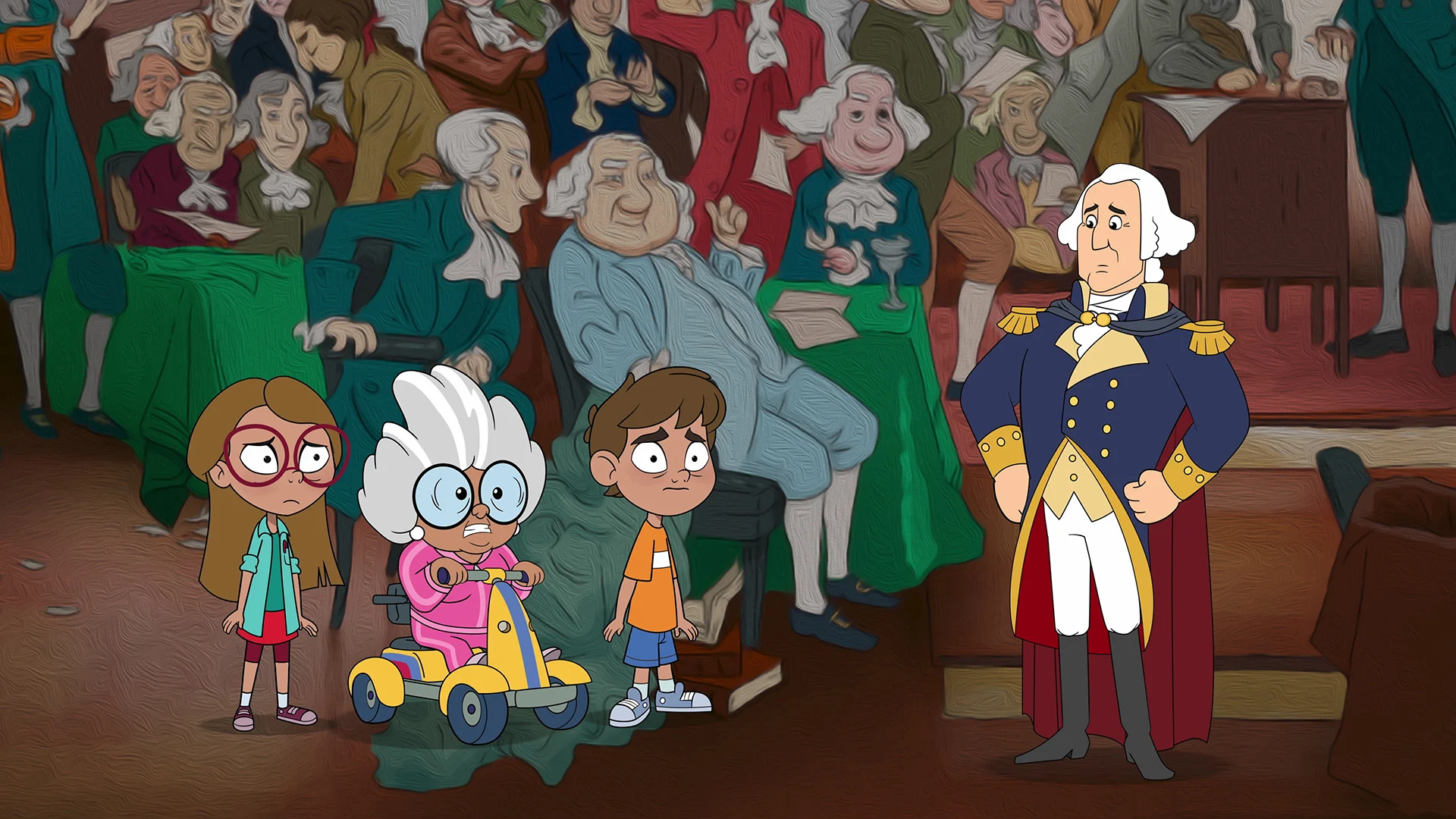 At a time when inflation wreaks havoc on our economy at an alarming rate, it's key to help children understand how they can shield their wealth from deteriorating value. Gold-backed currency helps to maintain the value of your dollar, and the Goldback company, the sponsor of this minisode, makes it possible to use gold as money in everyday transactions. 
Goldback produces currency made of real gold, designed to be used in everyday transactions of every size. The first to accomplish this inflation-defying feat, Goldback is on a mission to protect your spending power and help you to harness the enduring value of gold for your everyday benefit.
You can use this Tuttle Twins minisode and its accompanying livestream to teach your kids about gold, Goldbacks, and how money works. Here are some ideas for how you can have these key discussions: 
Simplify your conversation. Help kids understand the value of currency, where that value comes from, and how it can decrease if governments aren't careful.

Draw connections. Compare gold to other precious items, including those your family may own, to help your kids understand the worth of the precious metal.

Teach about cause-and-effect. Expound on the process of inflation, and explain how a surplus of cash occurs in a nation's economy. 

Utilize other online resources and games. Expand your conversation to include other topics relating to financial literacy.
The premiere of "Dark Dumpster Derek Returns" will be followed by a special livestream that includes an interview with the CEO of Goldback, a chance to win real gold, and a sneak peek at Episode 11 of Tuttle Twins Season 2. Be sure to tune in on November 14 for this one-of-a-kind content!
This clever new minisode is a fantastic opportunity to teach your children about the gold standard, the value of money, and how everyone (even kids) can use gold as currency. When kids learn essential economic principles from an early age, they can move forward into life empowered with more key knowledge than many adults, and Tuttle Twins makes it particularly exciting! Help us produce more episodes of Tuttle Twins and Pay it Forward, either once or with a monthly contribution, and be sure to check out more of Angel Studios' series and films that amplify light for kids everywhere.
FAQ
Q: When does this Tuttle Twins mini-episode air?
A: This Tuttle Twins mini-episode airs Tuesday, November 14, 2023. Fans who Pay it Forward $100 or more can receive early access to this episode, as well as an exclusive early access livestream packed with behind-the-scenes fun, on Friday, November 10, 2023.
Q: Where can I stream Tuttle Twins?
A: Tuttle Twins is available to watch FREE from Angel Studios on your television, mobile device, or internet browser. Simply search "Angel Studios" on whichever device you're using in order to download and view the series. For a full list of supported devices, visit angel.com/legal/devices. Start watching (and loving) Tuttle Twins now!
Q: How can I watch Season 2?
A: Season 2 of Tuttle Twins premiered March 7th, 2023 and the season finale, a Christmas special, will be available December 19, 2023. All episodes are FREE to stream in the Angel Studios app.
Q: Have all of the Season 2 episodes been released?
A: There are twelve total episodes in the second season of Tuttle Twins. After the premiere of this special mini-episode,  three more will be released before the end of the year.
Q: What is Goldback, and what do they do?
A: Goldback produces physical gold that's designed for use in everyday transactions, both large and small. This product is the first of its kind, and the company aims to create an "inflation-proof" currency with its 24-karat gold bills. Learn more at their website!
Q: Where can I find Season 1 of Tuttle Twins?
A: All 12 episodes of Tuttle Twins Season 1 are available to watch now in the Angel Studios app. 
Q: How can I buy my own Tuttle Twins merchandise?
A: Represent your favorite series and support the show by shopping our collection of official Tuttle Twins merch at https://shop.angel.com/tuttle-twins.
Q: How can I support Tuttle Twins?
A: There are plenty of ways you can support the Tuttle Twins series! Most importantly, you can continue to enjoy the show and share it with friends and family. You can also purchase Tuttle Twins merchandise, or Pay it Forward to help produce additional episodes. 
Q: Is the Tuttle Twins show based on a book series? 
A: Yes! The Tuttle Twins show is based on the best-selling books of the same name. Over 4 million copies have been sold.
Your choice to Pay It Forward funds future seasons and keeps Tuttle Twins free around the world.