< Back
Sound of Freedom: #1 Movie in America on July 4th
by Angel Studios | July 6, 2023
On July 4th, Sound of Freedom came in at #1 in the U.S. Box Office! It rose above Indiana Jones and the Dial of Destiny, Elemental, and Spider-Man: Across the Spider-Verse.
Neal Harmon, CEO of Angel Studios, says.
"Thanks to fans around the country, Sound of Freedom earned the top spot as America's number one movie on Independence Day. We've received numerous messages telling us theaters are either packed or sold out. This movie has now taken on a life of its own to become something more than that, a grassroots movement. With an A+ CinemaScore rating, we're the top-rated movie in America, and we're going to see word-of-mouth spread even further going into the weekend. The world needs to see Sound of Freedom, and we know that our biggest competitive advantage—our incredible fans and investors—are going to make sure that happens."
Check out the rankings!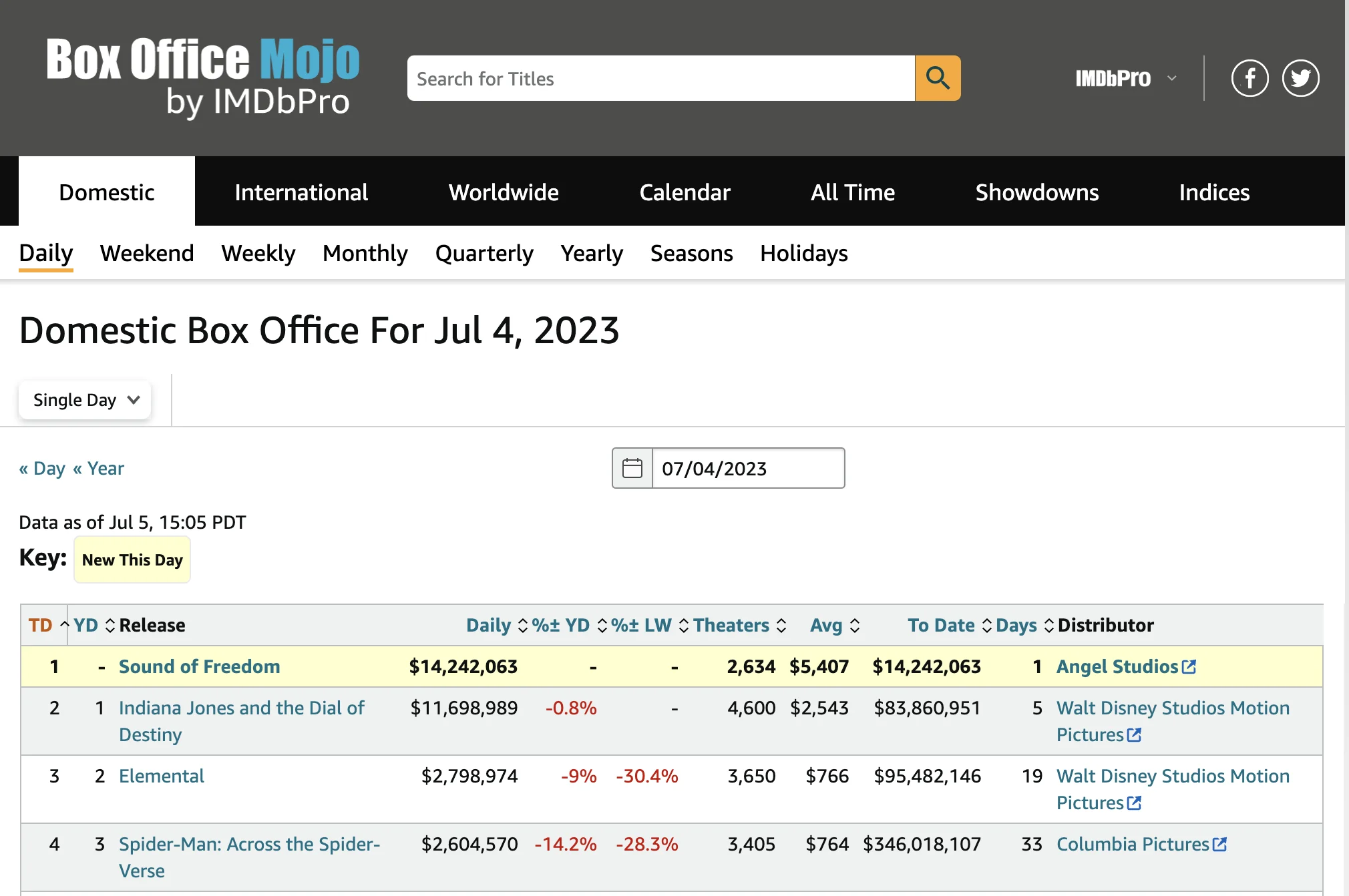 People can't stop talking about it! Newsweek says,
"The feat of Sound of Freedom beating Indiana Jones and the Dial of Destiny is even more impressive when you consider the numbers behind each movie's release."
Deadline reported,
"All industry eyes are watching the anomaly of this non-major-studio independent title that has faith-based elements."
Yahoo! wrote,
"Indiana Jones successfully found the Dial of Destiny, but another action hero may have stolen his box office treasure."
We're so amazed at the success of Sound of Freedom, and it's all thanks to you! If you haven't seen the film yet, get your tickets today.
Your choice to Pay It Forward funds future seasons and keeps Angel Studios free around the world.