< Back
How to Submit Your Film Project to Angel Studios
by Angel Studios | November 25, 2022
Angel Studios' mission is to share stories that amplify light. If you have a story that you believe amplifies light, then follow the creator journey below.
Here is what to expect:
💡 How do we define light? Stories that are true, honest, noble, just, authentic, lovely, admirable, and excellent.
STEP 1 - PASS THE ANGEL GUILD
The Angel Guild is your first point of contact with Angel Studios. Angel Studios will share your torch (see more below) with a preselected group of viewers: the Angel Guild. The Angel Guild is made up of Angel investors and guild members. Angel Guild members decide which productions to green light, have access to exclusive content, and get to communicate with filmmakers.
What is the Angel Guild?
In order to pass the Angel Guild, all film submissions must meet the minimum eligibility score for their respective categories. If a submission fits under multiple categories, the eligibility score that is higher will be used. The categories and scores are as follows:
Children's Shows and Concept Videos = 40%

Documentaries & Completed Productions = 50%

Films Intended for Theatrical = 60%
⚙️ These numbers reflect the current minimum Guild eligibility scores. Angel Studios reserves the right to change these scores at any time. When scores are changed, they will be applied equally to all submissions awaiting a decision in the Guild as well as new submissions going forward. Changes to the Guild may be documented here.
A torch is a prototype of your final production that is at least five minutes long. Angel Guild members will watch your torch and vote on their favorite projects. You must submit an eligible torch before receiving any consideration from the Angel Guild.
The Torch proves you can assemble and lead a team to turn your vision into reality. If you would like to see examples of torches that have already passed the Angel Guild, you can download our mobile app or visit angel.com/torches. The Torches are the full videos minus any director commentary.
What to expect in the application
The filmmaker application is how we receive your Torch and put them into the Angel Guild. The application includes:
Production Information

Provide your vision for your production as well as the current stage of your production

Torch Upload


Upload the video file for your Torch

Angel Studios' Torch Agreement


A non-exclusive licensing agreement that allows Angel Studios to stream the Torch in the Angel Guild for the purpose of gauging interest from the audience

A $100 application fee
STEP 2 - BUILD YOUR MOVEMENT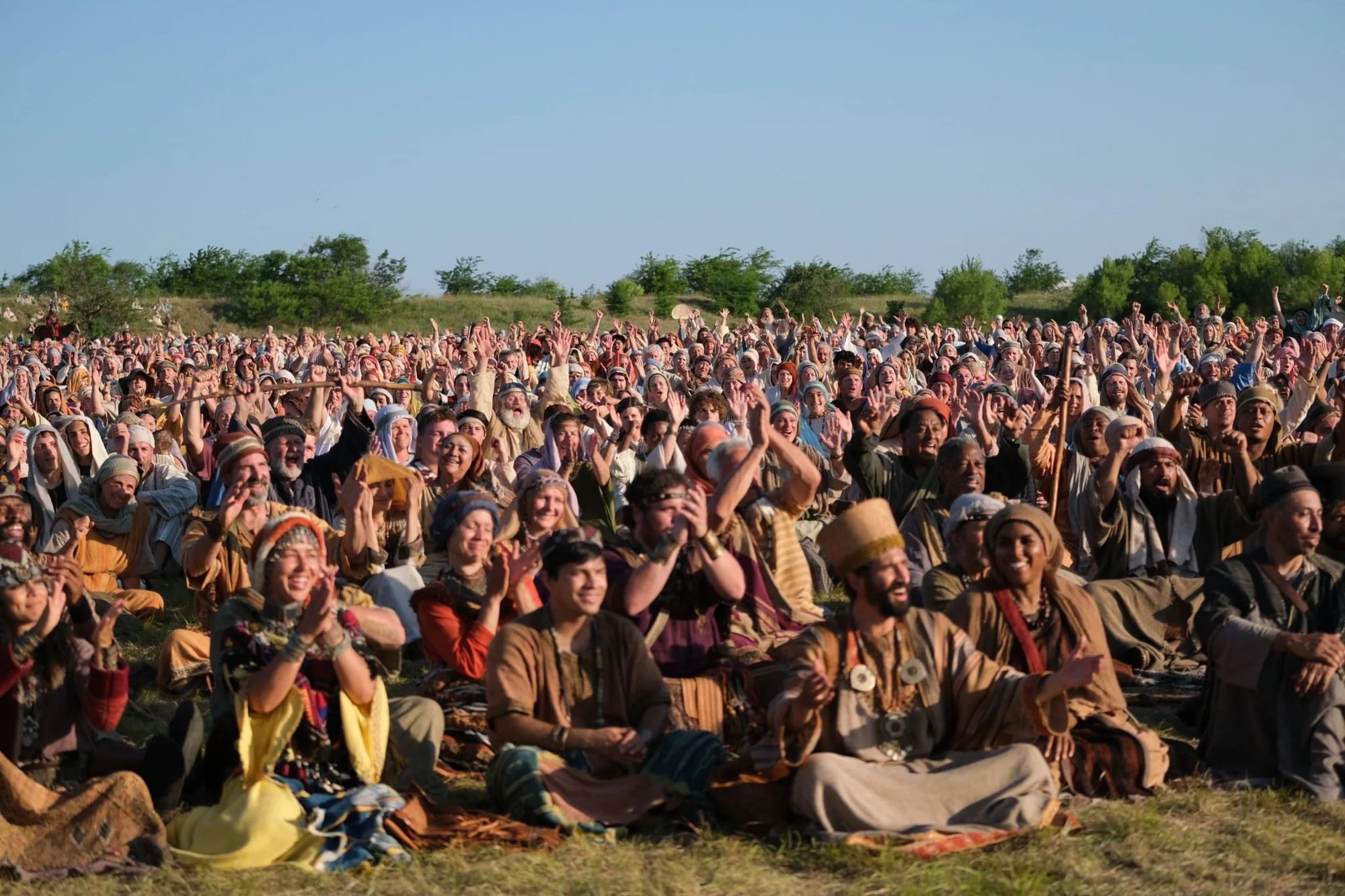 The filming of the feeding of the 5,000 with The Chosen.
Building a movement is where together we begin to grow an audience for your production. Once your torch passes the Angel Guild it is watchable by our entire Angel audience. Angels then "Express Interest" in their favorite projects to help you predict how much funding you might receive.
You are also granted access to the Angel feed in the mobile app allowing you instant communication to your audience on Angel which will help you gather insights from your viewership.
In this stage, you are introduced to your team at Angel Studios, and we build a strategy to bring your production to the big screen. If we select your film or series as an Angel Original, our team will help you with goals, branding, and messaging while giving you full creative control of your production.
STEP 3 - CROWDFUNDING
Angel Studios works with Angel Funding to help creators raise capital to fund their production. Go to invest.angel.com to learn more about crowdfunding with Angel Funding.
You can crowdfund for production or for P&A (print and advertising) if your film is already finished.
💡 Angel Funding operates independently of Angel Studios and is an SEC and FINRA regulated Portal focused on film and TV.
STEP 4 - PRODUCTION
This is the where filmmakers do what they do best. Angel Studios is mostly hands off in this stage, and we allow you to bring your vision to life. We give full creative control to you during production and are happy to provide any additional resources if needed.
During production, the Angel audience continues to remain accessible to you. Keep your fans up to date and grow your audience by posting regularly in the feed.
STEP 5 - DISTRIBUTION
Your final step in the Angel Studios model is distribution. We work with you to create a distribution strategy and reach as wide an audience as possible.
Take a look at the Angel Distribution model explained in this video:
Pro tips!
Here are a few steps you can take to increase your chances of passing the Angel Guild and partnering with Angel Studios.
JOIN THE ANGEL GUILD:
Download the Angel Studios app and join the Angel Guild to review torches submitted by other creators.

WATCH TORCHES:
Go to the Torches tab in the Angel Studios app and watch other torches that have passed the Angel Guild

EXPLORE THE FEED:
Go to the Feed in the Angel Studios app and and follow other creators to see their interactions with their audiences.

WATCH ORIGINALS THAT ARE FULLY PRODUCED:
Watch other Angel Originals and see what successful Angel Studios content looks like.
Your choice to Pay It Forward keeps Angel Studios free around the world.