Angel Studios and Shining Isle Productions Release New Book for The Wingfeather Saga, Reveals Exclusive Art Behind Hit Series
The Art of The Wingfeather Saga: Season One provides a unique look into concept and character sketches, storyboards, lighting studies, special effects of this pioneering series.
Nashville, TN—October 11, 2023
Angel Studios — the platform empowering creators to crowdfund, create, and then distribute films and TV series globally with full creative control — and Shining Isle Productions are announcing the release of the new book The Art of The Wingfeather Saga: Season One, available today.  
"This book is unlike any other, as it celebrates the fans who made the series possible and the artistic talent that brought the series to life," said J. Chris Wall, showrunner for the series. "We wanted to share a book that not only explores the art that you see, but gives readers a chance to hear the behind-the-scenes story from the art directors, animators, producers, and designers."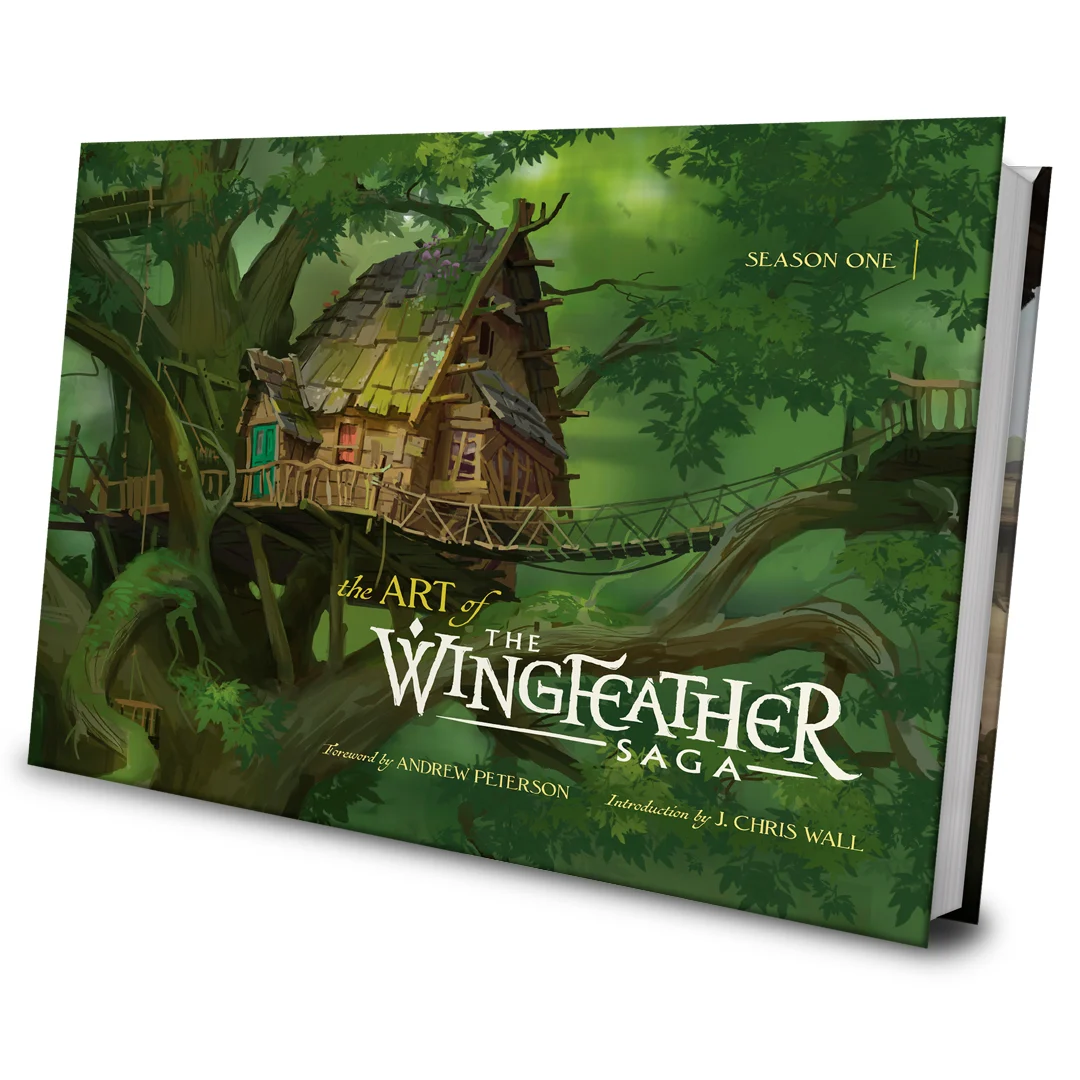 The Art of The Wingfeather Saga: Season One is a hard-cover coffee table book that showcases the show's distinctive hand-painted look and feel and gives a unique look at the creative process of animation. The series animation style uses an in-house developed technology that blends traditional CGI animation with handcrafted 2D environments, creating a distinct 'paint-motion' visual experience. The book explores the roots of the animated series in the short film and the making of Season 1, including hundreds of pieces of concept and character sketches, storyboards, lighting studies, special effects, and final art. 
The CG animated series tests the norms in its storybook and hand-painted style, and capitalizes on the unique toolset of the Unreal Engine. Season 1 is the start of a seven-season scope, based on the best-selling novels of the same name, and is the #1 crowdfunded animated family series in history with more than $8.2 million raised from more than 10,000 investors.
The book includes exclusive insights into the series creation from all of the key players and invites readers into the intriguing process of animation, and is available at angel.com/wingfeatherart.
Season 1 is available to stream now for free on angel.com, the Angel app, and also available digitally on iTunes, Amazon, and other outlets. 
# # # 
Follow The Wingfeather Saga on social media:
YouTube: @WingfeatherSaga
TikTok: @WingfeatherSaga
Instagram: @wingfeathersaga
Facebook: @WingfeatherSaga
About Angel Studios:  Angel Studios is the home of stories that amplify light. Through the Angel Guild, tens of thousands of "Angel" investors choose which titles the studio will next distribute. Angel Studios allows creators and audiences to form passionate communities around their creative projects, making the story behind the story as important as the final project itself. The Chosen and Dry Bar Comedy—two of Angel Studios' projects—have earned billions of views around the world, and now SOUND OF FREEDOM has become a global box-office hit. Learn more at Angel.com.