< Back
The Mission of Tuttle Twins
by Angel Studios | August 8, 2023
Are you on the lookout for wholesome entertainment for your kids? What if we told you it was also laugh-out-loud hilarious? Tuttle Twins is the perfect choice to help your kids learn about the world, economics, and the precious freedoms they enjoy, all while they giggle along the way.
The mission of this one-of-a-kind show is to enrich the lives and minds of 100 million kids with concepts of liberty and freedom. We aim to entertain kids while preparing them to go out into the world, vote, and effect meaningful change. Everyone should know their constitutional rights so that they can fight for their own freedom, as well as the freedoms of others. 
What is the Tuttle Twins Series About? 
A fan-favorite children's show–produced by Angel Studios and inspired by the novels by author and "freedom-loving dad" Connor Boyack–Tuttle Twins has been delighting parents and children for two seasons and counting. The show follows the adventures of twins Ethan and Emily Tuttle as they learn principles of liberty and economics from historical heroes.
When the twins' Grandma Gabby moves in with their family, they don't think their lives will be disrupted much at all. Boy were they wrong! When Grandma Gabby reveals an incredible secret (her wheelchair allows her to travel through time!), the twins will head on oh-so-fun and educational adventures. A strong and responsible escapee from socialist Cuba, Gabby wants nothing more than to equip her grandkids to understand their rights and how to preserve them. With her curious, quirky, and wild raccoon friend Derek in tow, she whisks Ethan and Emily away on time-twisty escapades that educate them in all the best ways. 
What Values Does the Tuttle Twins Show Teach? 
Tuttle Twins is jam-packed with essential lessons on liberty, freedom, and economics. The twins travel through time learning from admirable figures in history, such as Frederick Douglass, George Washington, and Babe Ruth. 
Ethan, Emily, and friends explore the importance of freedom as they race through time, from some of the people to whom they owe their liberty. Some of these escapades include:
Understanding natural rights with the help of John Locke

Learning the importance of truth from George Washington

Overcoming victim mentality with Frederick Douglass
The gang also learns key economic principles in their travels, from some brilliant people and societies whose ideas, experiences, and hard work shaped our world today. These adventures include:
Practicing entrepreneurial skills with Ben Franklin, and starting their own corn dog stand

Discovering the ins-and-outs of inflation with Nobel Prize winning Economist, Milton Freidman

Observing the dangers of communism from Babe Ruth and a trip to Cuba

Learning about money and bitcoin while traveling through retro video games
Tuttle Twins provides your kids with the smartest lessons in the coolest, most kid-friendly way. Your kids will learn priceless truths–and have fun doing it–with Ethan, Emily, Grandma Gabby, and Derek the Raccoon!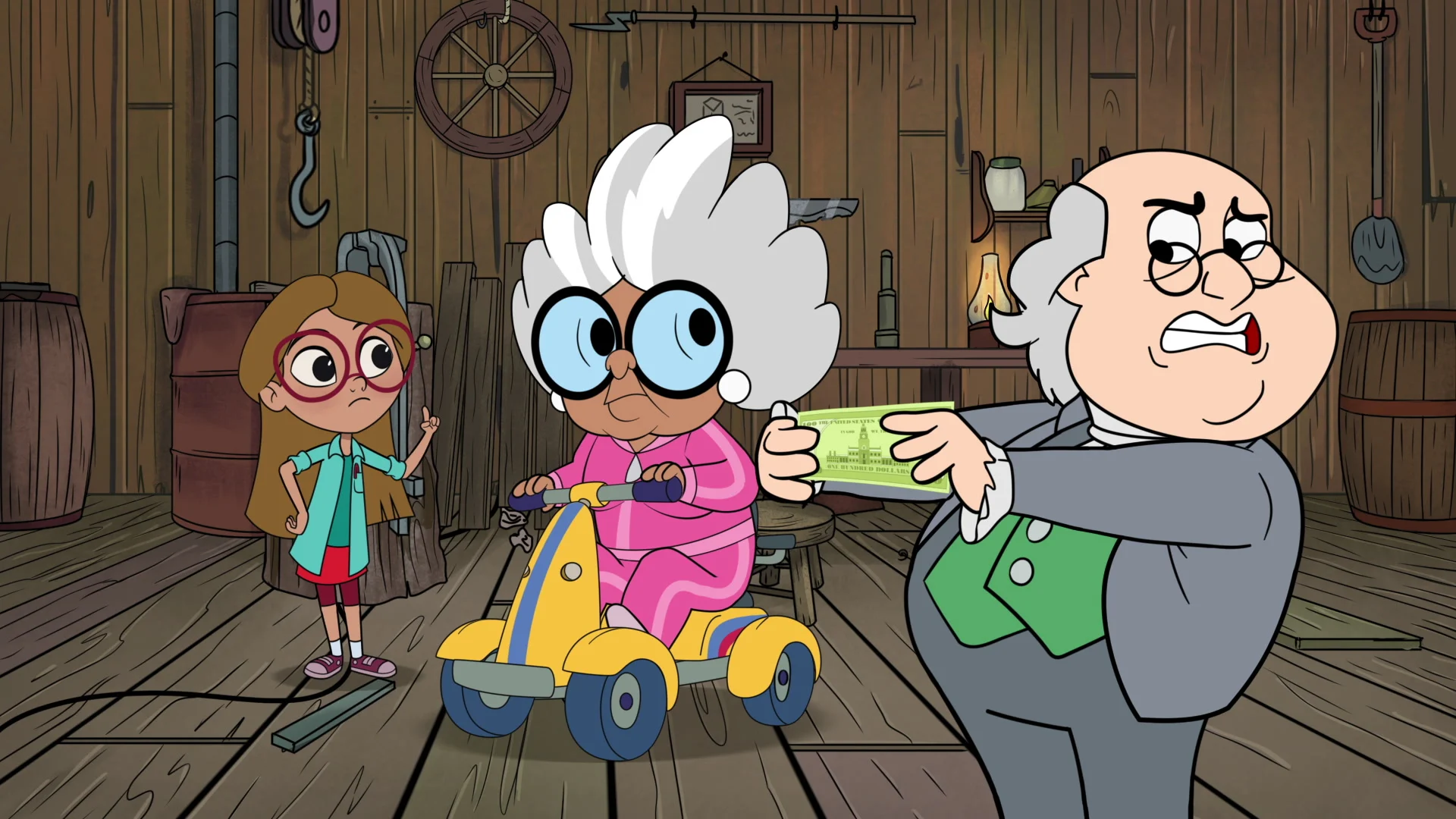 Should My Kids Watch Tuttle Twins? 
Yes! Your kids will love tagging along with Ethan, Emily, and the gang. A fun and educational experience with something for everyone, Tuttle Twins has delighted kids of all ages. 
The series' themes, messages, and dialogue are simple to understand and suitable for kids, whether they're toddlers or teens. The stories are funny and engaging, while still teaching meaningful concepts in a digestible way.
How to Watch Tuttle Twins 
Catch up on the wacky adventures and eye-opening lessons of Tuttle Twins with the future leaders in your life. We're currently in the middle of an exhilarating second season, with new episodes being released monthly. 
The best part? Tuttle Twins is free to watch—anytime, anywhere. Stream the Tuttle team's antics in the Angel Studios app via your mobile device or TV, or simply visit Angel.com/TuttleTwins.
How to Support Tuttle Twins 
Want to see more of the Tuttle Twins and help preserve the ideas of freedom and economic wisdom for generations to come? There are multiple ways you can support the show. Pay it Forward to help fund more exciting adventures and meaningful lessons for the rising generation;
then, support our mission in style with some Tuttle Twins merch for yourself and your crew and help spread the word. 
Your choice to Pay It Forward funds future seasons and keeps Tuttle Twins free around the world.