< Back
Zebedee in The Chosen: Fisherman & Father of James and John
by Angel Studios | November 5, 2023
Who is Zebedee in The Chosen?
Zebedee is an important character in The Chosen who is beloved by his family and is a fervent follower of Jesus and His teachings. Zebedee is introduced in The Chosen Season 1 as the father of Big James and John. He is married to Salome and is one of the most successful and skilled fishermen in all of Capernaum. Before being called as two of Jesus' apostles, Big James and John worked alongside their father Zebedee as fishermen. 
While Zebedee in The Chosen is known as the father of James and John, there's much more depth to his character that is explored throughout the series.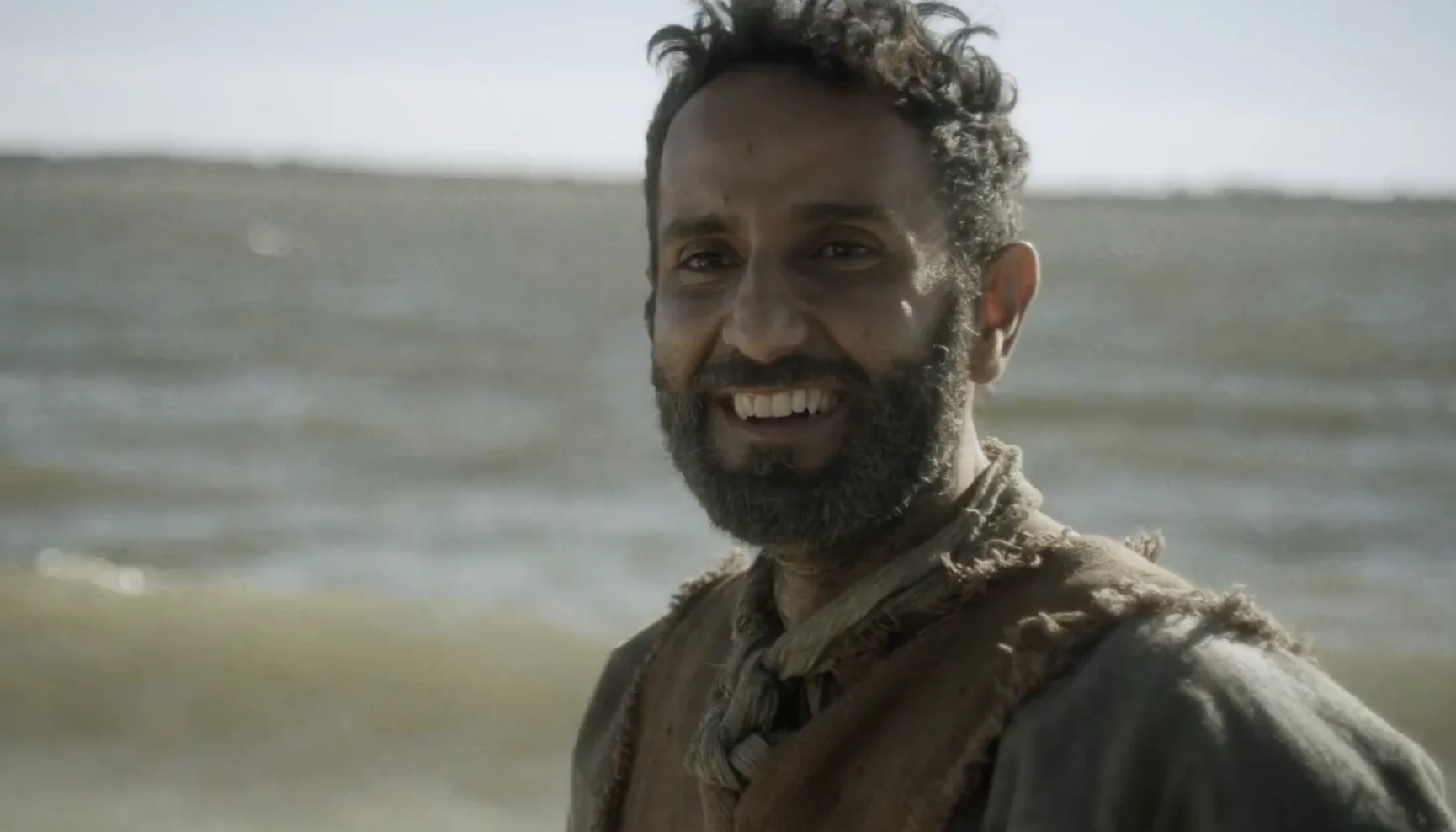 Zebedee's Role in The Chosen
Zebedee is a recurring character throughout The Chosen who plays an important role in the testifying of Christ. 
We are first introduced to Zebedee in The Chosen Season 1 Episode 4, "The Rock On Which It Is Built." After naming Simon and Andrew as his apostles during the miracle of the fish, Jesus turns to Big James and John and calls them to follow Him as His apostles. Though James and John are humbled to be called as Jesus' servants, they are hesitant to leave their father Zebedee behind. Zebedee quickly allays their fears when he says: "You've just been called by the man we've prayed for our entire lives, and you ask me what will I say when you miss supper?" Zebedee proceeds to ensure that the fish are collected and encourages his sons to follow Jesus without question.
This scene beautifully illustrates the character of Zebedee. He witnesses Jesus' miracle and immediately believes and testifies that He is the Messiah. Even when his sons worry about leaving, Zebedee encourages them to follow Jesus above all else. This demonstrates Zebedee's fierce loyalty to Jesus and his believing heart. 
We get further insight into Zebedee's character in The Chosen Season 1 Episode 6 "Indescribable Compassion." When Jesus and the apostles arrive in town looking for somewhere to rest, Zebedee and his wife Salome immediately welcome them into their home and provide dinner for everyone. Zebedee is very interested in Jesus' lineage and is eager to ask Him questions. This curiosity reflects Zebedee's inquiring mind and thirst for further truth. As more crowds gather outside their home, Jesus is asked to heal a paralytic man. As strangers break Zebedee's roof to lower the man into his house, Zebedee doesn't protest but quickly helps the man enter his home. This willingness to allow strangers into his home so Jesus can heal them illustrates Zebedee's compassion and empathy. Instead of being angered by the crowds, Zebedee opens his home so more people can behold Jesus' message.
Zebedee's commitment to Jesus is further solidified in The Chosen Season 3, specifically in episode 4, "Clean Part 1." Zebedee is working tirelessly to perfect his oil making skills so he can break into the oil business. In order to support his burgeoning business, Zebedee decides to sell his fishing boat which is essentially his livelihood. When asked by the seller why he would sell his fishing boat, Zebedee responds: "I met a man who is no man." This sentiment illustrates Zebedee's conversion to Jesus and his willingness to give up all his earthly possession to further His ministry.   
Is Zebedee in the Bible?
In the Bible, Zebedee is mentioned in the New Testament. He is primarily known as the father of two of Jesus' 12 apostles, James and John. Zebedee was a fisherman, and his sons, James and John, were fishermen as well.
James and John are often referred to as the "Sons of Zebedee" to distinguish them from the other apostles. They were also known as "the sons of thunder" (Mark 3:17), a nickname given to them by Jesus. James and John were among the closest disciples of Jesus and were present at important events in his ministry, such as the Transfiguration and the Garden of Gethsemane.
Zebedee himself does not play a prominent role in the New Testament, and not much is known about him beyond his occupation as a fisherman and his connection to his sons, James and John.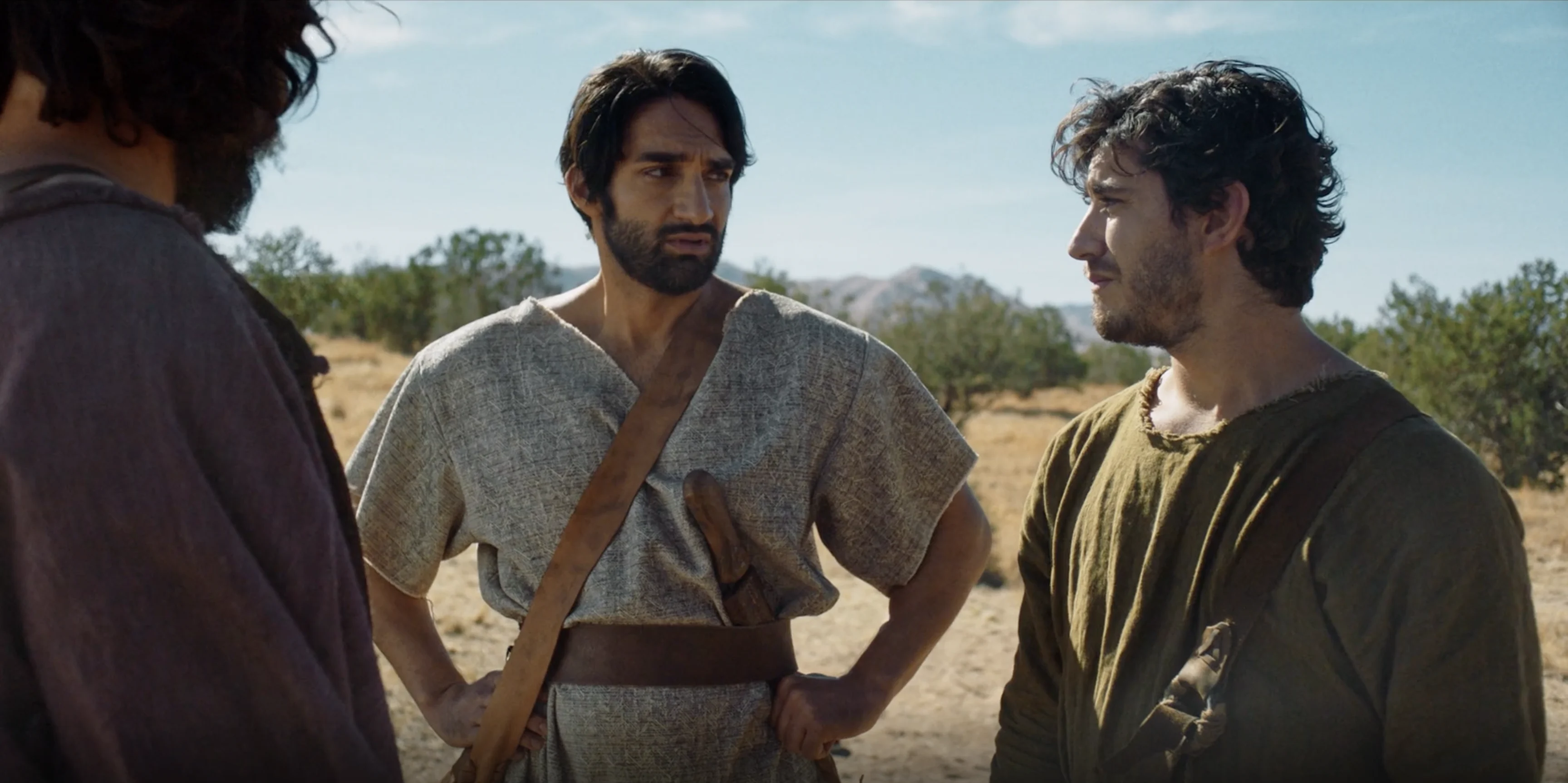 Some of the key mentions of Zebedee in the New Testament (NIV) include:
Matthew 4:21: "And going on from there, he saw two other brothers, James the son of Zebedee and John his brother, in the boat with Zebedee their father, mending their nets, and he called them."

Matthew 20:20: "Then the mother of Zebedee's sons came to Jesus with her sons and, kneeling down, asked a favor of him."

Mark 1:19-20: When he had gone a little farther, he saw James son of Zebedee and his brother John in a boat, preparing their nets. Without delay he called them, and they left their father Zebedee in the boat with the hired men and followed him."

Mark 10:35: "And James and John, the sons of Zebedee, came up to him and said to him, 'Teacher, we want you to do for us whatever we ask of you.'"
These passages illustrate the family relationship between Zebedee and his sons, James and John, and their interaction with Jesus during his ministry.
Zebedee, James and John
The Chosen goes to great effort to portray the inspiring relationship between Zebedee and his two sons, James and John. We get special insight into Zebedee's relationship with his sons in Season 1. 
When called by Jesus to be His apostles, James and John's first thought is to wonder what their father will think. They are resistant to leave their home and abandon their occupation as fishermen. Zebedee's response is for his sons to follow Jesus and to not worry about him. This interaction demonstrates the close bond these brothers share with their father and the tight-knit family they have created.
Zebedee's relationship with his wife Salome is revealed in Season 1 when he and Salome are preparing to host Jesus and the apostles. He kindly completes all of his wife's requests with kindness and humor. When James and John arrive back home, both Zebedee and Salome warmly greet their sons with big hugs. Zebedee is both good-natured and deeply loyal to his family and his faith.
See behind the scenes of Season 1 Episode 6 here: 
Who Plays Zebedee in The Chosen?
Actor Nick Shakoour portrays Zebedee in The Chosen. He grew up Greek Orthodox and has described himself as not especially religious when he was cast in The Chosen. As he became immersed in his role as Zebedee, he began praying more fervently to God to feel His power in his life. He has had dozens of spiritual experiences through playing this role that have strengthened his faith in God. One of the most important things he's learned from portraying Zebedee is how to be a good father. While not a father himself, he's learned many valuable lessons about parenthood. 
See Nick discuss his remarkable faith journey here:  
Watch The Chosen
Catch up on all three seasons of The Chosen to help its message spread far and wide. Buy the latest merch here.
Your choice to Pay It Forward funds future seasons and keeps The Chosen free around the world.