< Back
When Will Season 4 of The Chosen Come Out?
by Angel Studios | March 21, 2023
Season 3 of The Chosen was a complete success! With so many fans, viewers are already asking, "When will Season 4 of The Chosen come out?" 
The answer: very soon! Season 4 of The Chosen has been confirmed, and the production received a special waver to continue filming even with the SAG-AFTRA strike. With that said, the cast and crew have been working hard and Season 4 has been confirmed to be released in early 2024, either in January or February.
The Chosen Season 4 Release Date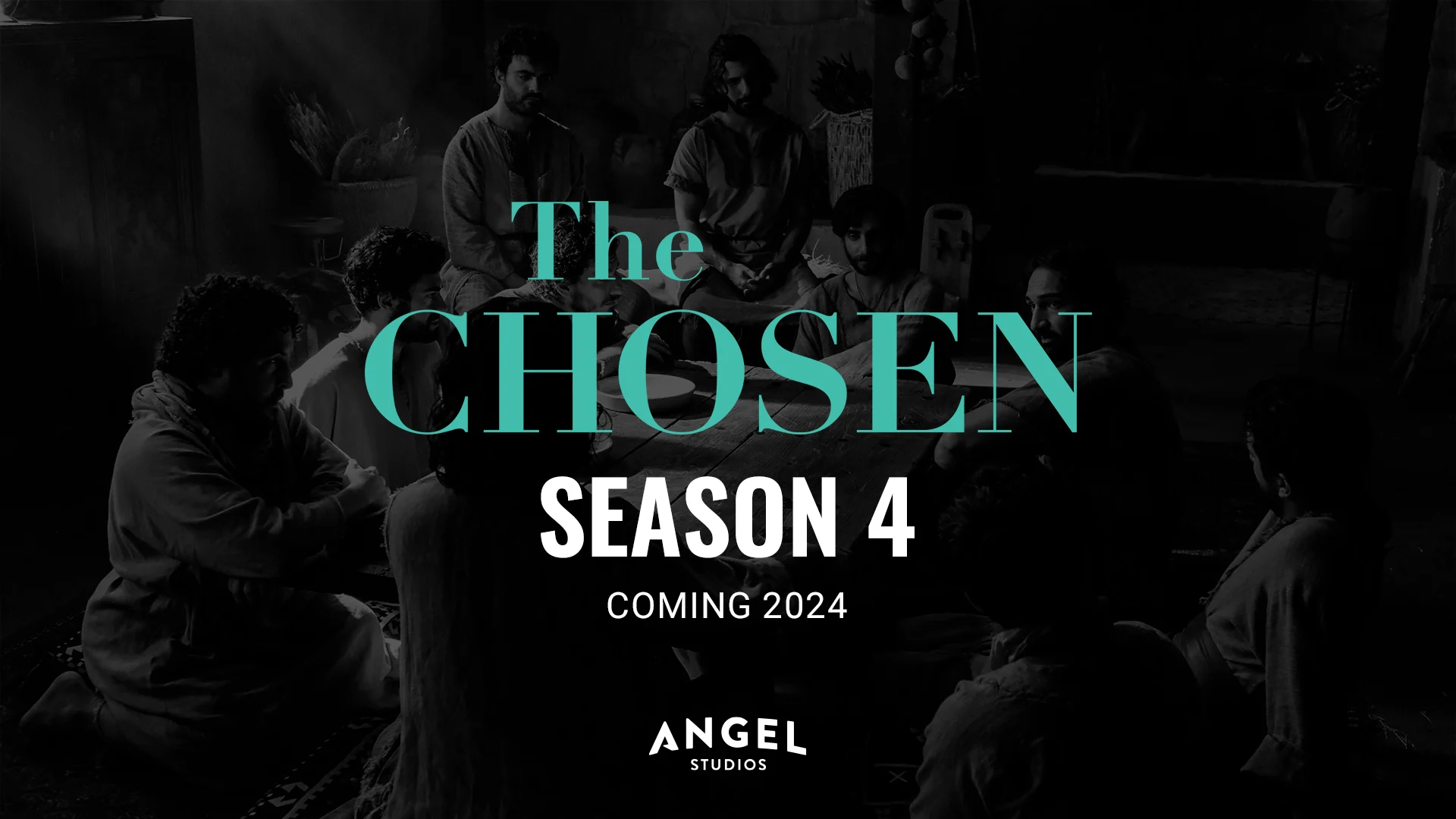 The Chosen Season 4 is slated to release in early 2024, in either January and February. While we don't have a specific timeline or date for Episode 1, we can tell you that filming began in March 2023. They are filming this season in Goshen, Utah, and at Camp Hoblitzelle in Midlothian, Texas. 
The Goshen site is typically used for scenes and settings in Jerusalem that we have seen in previous seasons. The production crew uses Camp Hoblitzelle for extensive outdoor settings that resemble Israel's environment and their 30,000-square-foot soundstage.
Season 4 will have eight episodes and will feature more scenes from the Bible as Jesus and His followers' story continues. Viewers will be able to catch The Chosen in theaters, as there will be a theatrical release for The Chosen Season 4. Filming has officially wrapped on Season 4 and post-production has begun to ensure the season is ready for release early next year.
What to Expect in Season 4
So, what's left to expect in The Chosen Season 4? So far, we've explored the beginning of Jesus' ministry and His befriending and leading the disciples. We've seen some of His most prominent miracles, as well as gotten a deeper look at characters that surrounded Christ during His time on earth. We've seen them struggle to see miracles being made around them, while they suffered through terrible circumstances.
We've seen the beginnings of betrayals and the crowd of dissenters against Jesus begin to build. Season 4 of The Chosen will continue to explore these themes, helping to provide more light on the trials and journey that Jesus and His disciples went through.
We'll really start to see some of Jesus' suffering as He heads toward His destiny to provide salvation for His followers. In fact, it's possible that this season will be one of the most impactful seasons we've seen thus far, which just builds our excitement for this next season to come out.
Help Fund The Chosen Season 4
The Chosen was Angel Studios' first crowdfunding success. So many people around the world were eager to see this relatable story of Jesus come to life that they invested in the story before Season 1 ever came out. Since then, more and more have been able to see the jaw-dropping story of Jesus brought to life on the big screen throughout the seasons.
Now, with so many supporters, The Chosen is funded by a Pay it Forward model and donations to the Come and See Foundation. Fans of the show Pay it Forward any amount to fund future seasons and help people around the world watch it for free. If you can't wait for the new season to drop, Pay it Forward to The Chosen today. 
Catch Up On All Episodes Before Season 4
The most surprising thing about a TV series that covers stories of Jesus? It is highly rewatchable and very bingable. 
So far on The Chosen, we've seen some incredible moments play out. The Sermon on the Mount, the turning of water to wine, Jesus heals at the pool, and so many more. Season 4 will be equally full of moving moments from the Bible. We're counting down the days to the new season!
Rewatch or watch for the first time Seasons 1, 2, and 3 before Season 4 releases in 2024. And be sure to check out our full selection of free, mission-drive drama shows and movies, too.
Your choice to Pay It Forward funds future seasons and keeps The Chosen free around the world.