< Back
Understanding Veronica in The Chosen
by Angel Studios | September 17, 2023
The Chosen tells the story of those who followed, were healed by, and opposed Jesus of Nazareth. Perhaps one of the most astonishing and wondrous healings in the course of Jesus' ministry was of a woman afflicted with a disease that caused her to bleed constantly, effectively casting her out of the only community she'd ever known, until she was healed. 
Veronica, whose story begins in Season 3 of The Chosen, is a remarkable example of the power of faith, as well as a reminder to the disciples, Pharisees, and onlookers that Jesus has the power to transcend the borders of the ancient law to serve and lift God's children.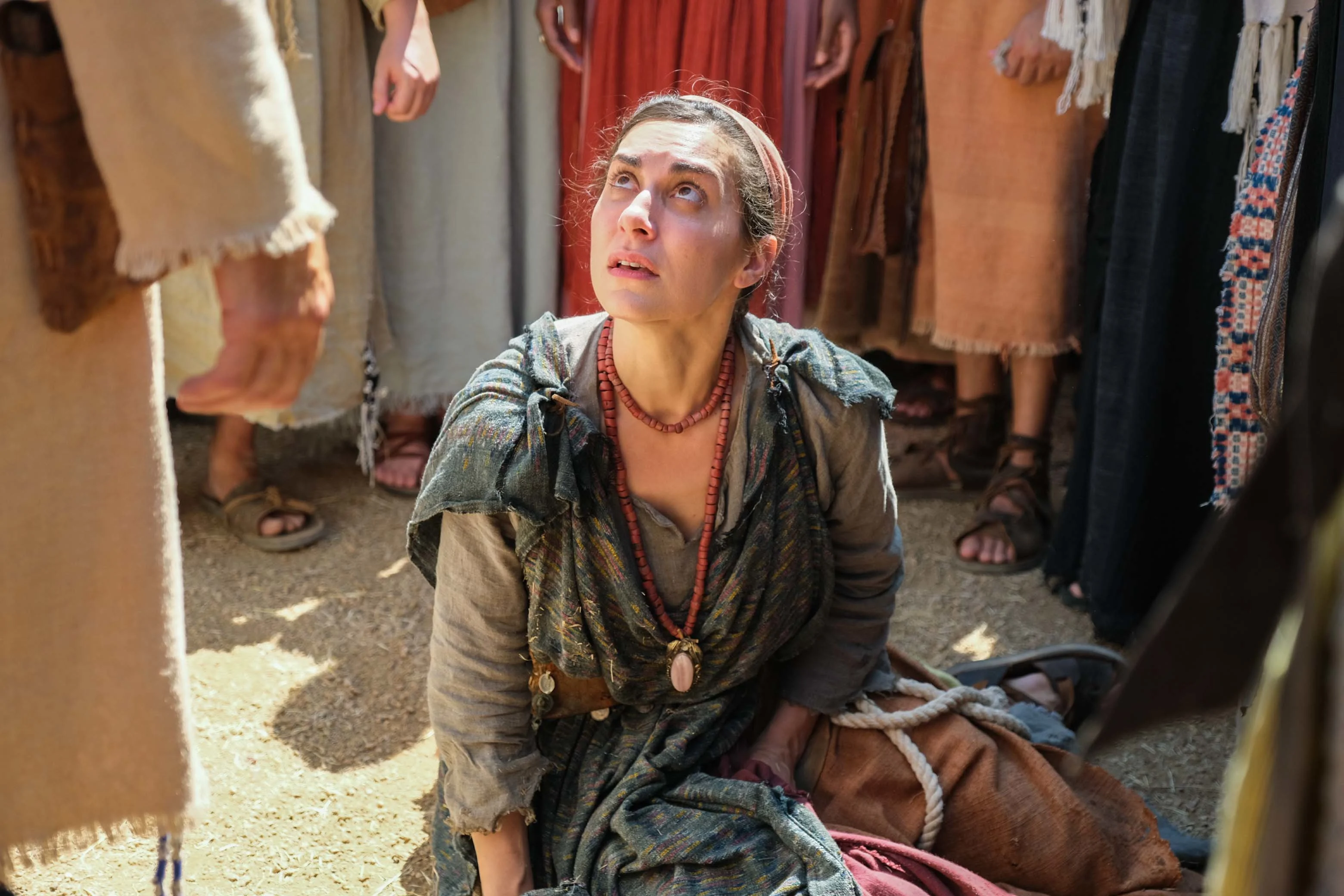 Was Veronica in the Bible?
The Chosen's Veronica has a direct counterpart in the Bible. Though her name and parts of her story were fictionalized for the purposes of the show, Veronica is based on an individual referred to in the New Testament as the "woman with the issue of blood."
The Gospels report that, before being healed by Jesus, this woman had suffered from her illness for 12 years. She'd spent all her money seeking a cure, but had left every doctor without help and without answers (Mark 5). Jewish law, as recorded in Leviticus, deems bleeding women unclean and requires their isolation from society. This suffering woman's constant bleeding not only tormented her physically, but made her a pariah among her own people. 
The Bible tells us that the woman with the issue of blood made a desperate, courageous decision: through a pressing crowd, she touched the hem of Jesus' garment, out of faith that even such simple contact with Jesus would make her whole again.
Jesus' stunning reaction teaches volumes about His character and power. In the middle of a dense crowd, Jesus stopped and asked His disciples who had touched Him (Luke 8). Confused, the disciples reminded Him that the crowd was thick and some bumps and brushes were inevitable, but this didn't phase Jesus, who continued to search for the culprit.
When the woman came forward and confessed to being the one to touch Jesus' clothing, His response was life-changing: "Daughter, your faith has made you well; go in peace" (Luke 8 ESV). She was healed not only of her devastating disease, but of the loneliness, despair, and isolation that had plagued her for more than a decade.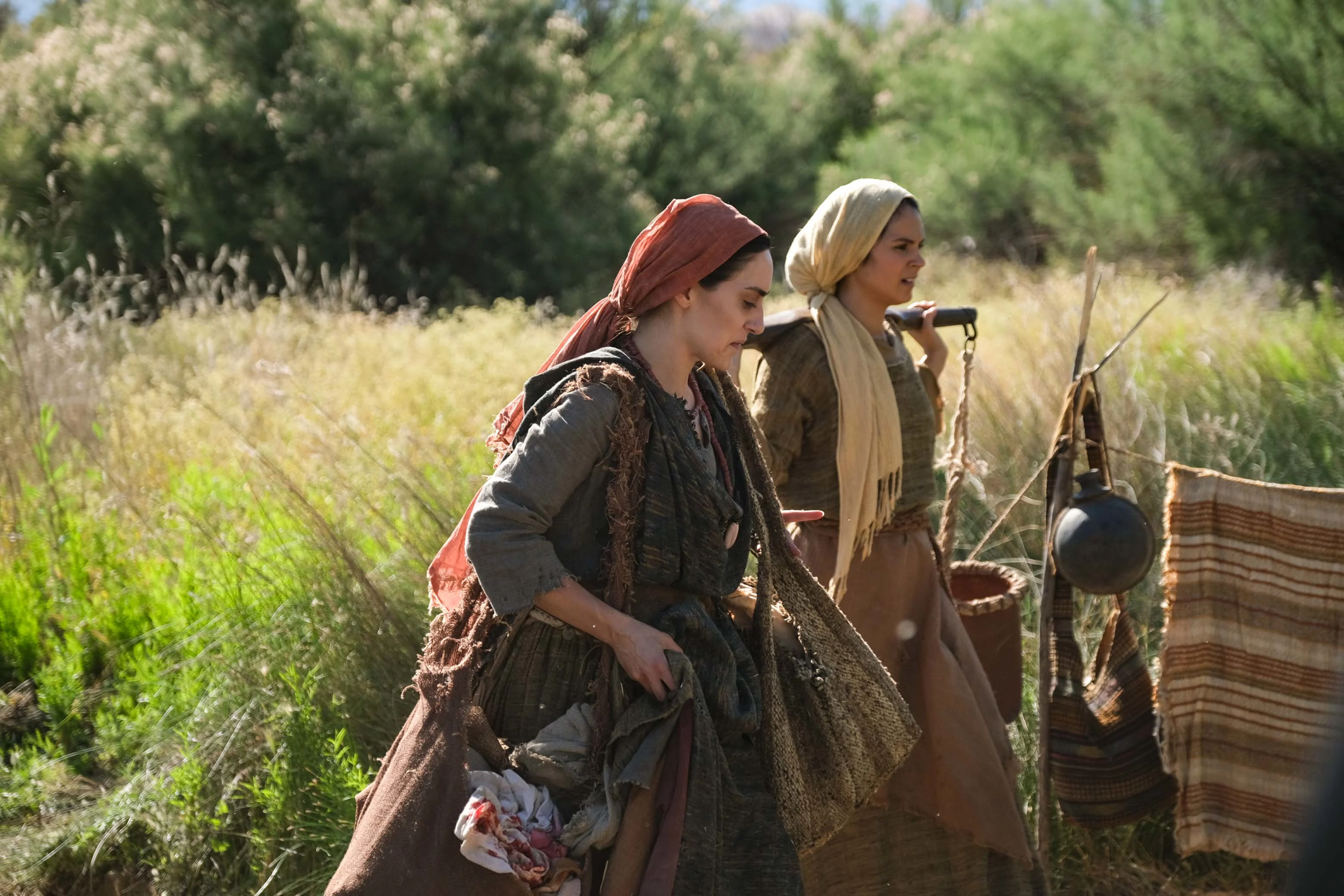 Unveiling the Complexities of Veronica's Role in The Chosen Season 3
We first meet Veronica in the first installment of a Season 3 two-episode arc entitled "Clean." Originally from Caesarea Philippi, Veronica lives on the margins of Jewish society. Desperate for a cure from her decade-long disease, Veronica hears from Jesse about a Rabbi who performs miraculous healings. While trekking to see Jesus and verify the truthfulness of these outlandish claims, Veronica meets Eden while the women do their laundry. Eden learns of her condition and, while she empathizes, does not draw the connection and introduce her new acquaintance to Jesus. 
The final straw comes when Veronica is shamed by a customer for doing their laundry while "unclean," sending her, ashamed and devastated, out of town and into the wilderness. Her makeshift campsite is discovered by disciples Thaddeus and Nathanael, and Veronica realizes that her chance has come to meet their Rabbi, the famed healer of Capernaum. 
The Impact of Veronica's Storyline in The Chosen Series
Amid Jesus and His Apostles' first mission to minister abroad, serious trials afflict three different people in Capernaum. Eden—the wife of Simon Peter—loses a pregnancy while her husband is away. The daughter of Jairus, the clerk at the synagogue, is ill and at death's door. Veronica's suffering is not new at this point, by any means, but is perhaps more potent and deeply painful than ever.
Veronica's faith in pursuing healing from Jesus is courageous for a number of reasons. Any individual that touched an "unclean" person was considered to be unclean themselves, according to the law of the Jews. Veronica's faith transcended any fear that Jesus wouldn't welcome her touch, as well as her fears of the judgment of her law-abiding peers. Jesus' responding miracle is a significant symbol of His power, as the Son of God, to defy ancient rules and perform the work He was sent to do. 
Veronica's story is significant not only for her, but for Eden, the wife of Simon. When Eden meets Veronica while doing laundry, her own life is riddled with pain and turmoil. A painful and isolating miscarriage had afflicted her while her husband—and Jesus, her Rabbi and renowned worker of miracles—were away helping and healing others. Originally convinced that her suffering must not be worthy of Jesus' healing touch, Eden is visibly awestruck, hurt, and dumbfounded when Veronica's courageous plea—though she was technically a "stranger"—is met with healing and comfort, and Eden, who had sacrificed so much to Jesus' ministry, was not healed of her physical or emotional ailments. Veronica's storyline serves to show an important duality to Jesus' ministry; He performed many incredible miracles in response to the faithfulness of the recipients, but—for a variety of reasons, some unknown—had to leave some faithful individuals to sit in their pain for a little longer. 
Who Plays Veronica in The Chosen?
Veronica from The Chosen is played by Zhaleh Vossough, an Iranian actress, whose love of drama stems back to her childhood. Vossough grew up acting; her first role was in a production of Robin Hood, in which a five-year-old Vossough portrayed the Sheriff of Nottingham. She went on to compete in regional and national Shakespeare festivals, and even won a competition as Constance in King John. A woman of many talents, she is also a graduate of Loyola Law School and a licensed and practicing California lawyer.
Vossough's career has exploded as of late. A prolific television actor, Vossough's career has showcased her incredible range, leading her fans to nickname her "the chameleon." In addition to her natural talent, Zhaleh's professional experience, wealth of education, and athletic background have enabled her to shine in roles of every kind. Vossough's breakout role was in Hulu's The Dropout, and she has since acted in a variety of projects, including Jason Bourne, Into the Blind, Better Call Saul,and Chicago Med.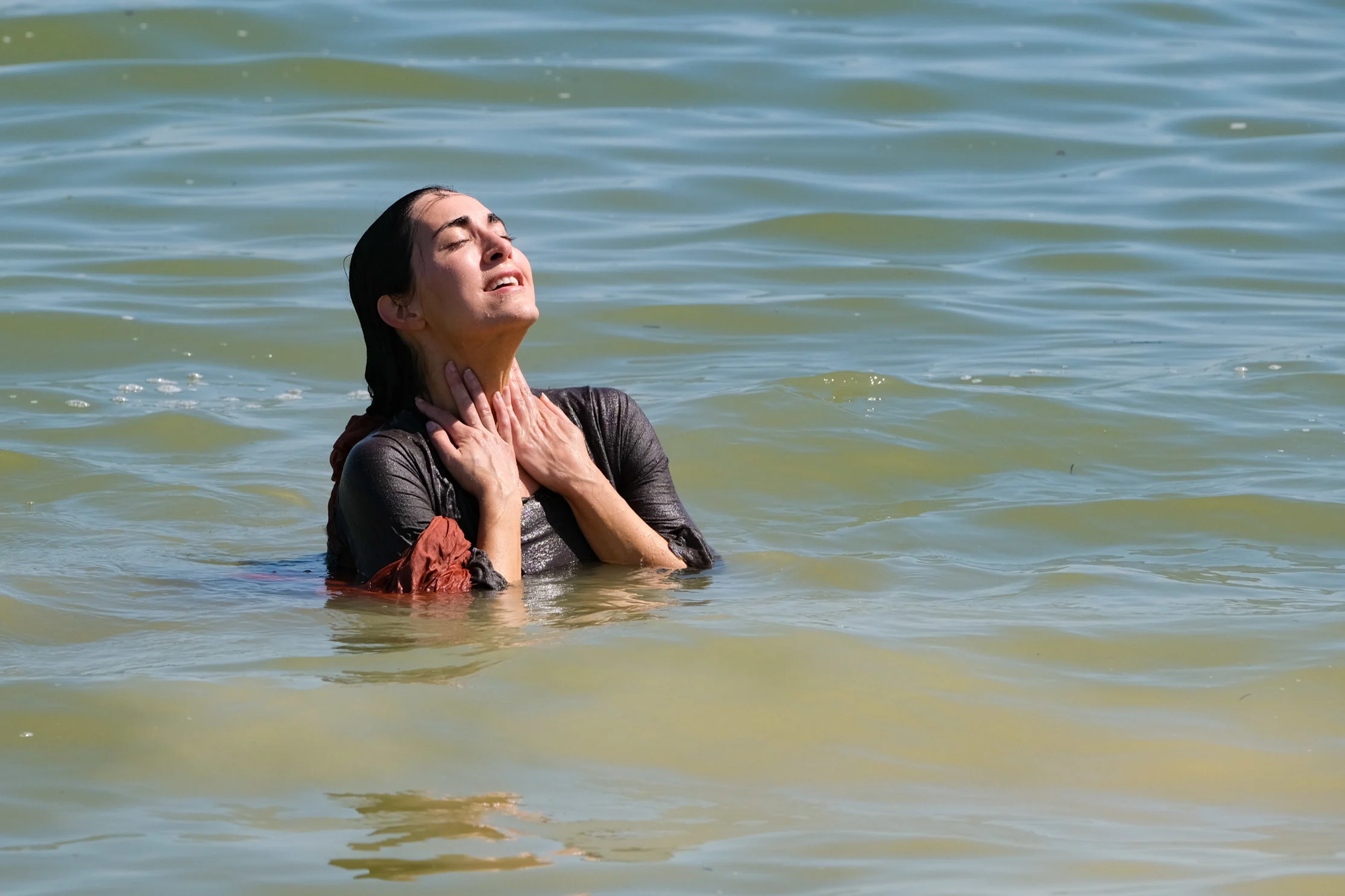 Unveiling the Storyline: Veronica's Character in The Chosen
Veronica's is an awe-inspiring, life-giving tale of a woman who refused to let her pain envelop her in fear. After a 12-year battle with a bleeding disease and a not-so-chance encounter with Jesus' disciples, Veronica risks it all to find healing. 
Veronica braves a pressing crowd to get to Jesus and, believing only a touch of His clothing could be powerful enough to deliver relief, briefly grasps the hem of His garment. Confused at the power that had left Him, Jesus looks around and locates Veronica, blessing her for her faith and healing her of her disease. We watch as she—overcome with gratitude and bliss—drops her bloody rags, races into the Sea of Galilee, and cleanses herself once and for all of the trial that plagued her. 
Where is Veronica now? After her miraculous healing, we can expect her to go the way of the others lifted and rescued by Jesus of Nazareth: to a life of greater purpose, joy, and fulfillment, and a desire to share the goodness of God and support the ministry of Jesus and His disciples. 
Discover the stories of more individuals who, like Veronica, experience a miraculous change in their lives as they meet and follow Jesus. Watch The Chosen for free in the Angel Studios app. 
Ready to join the movement? Start swimming against the current and Pay it Forward; your contributions help us produce more of The Chosen, and helps bring the show to as many people as possible. 
Your choice to Pay It Forward funds future seasons and keeps Angel Studios free around the world.