< Back
Everything About Thomas and Ramah's Relationship in The Chosen
by Angel Studios | July 18, 2023
Season 3 of the groundbreaking series The Chosen sees significant upheaval in the work and lives of Jesus and the disciples. Missions are given, followers flock to the movement, miracles are wrought, and, in the case of Thomas and Ramah, relationships are kindled.
While the show's relationship between Thomas and Ramah is fictional and specific to the series, The Chosen reminds us of the reality that Jesus' apostles had lives and experiences outside of what's recorded, as well as the possibility that those realities included love, marriage, and families. 
Are Thomas and Ramah in the Bible?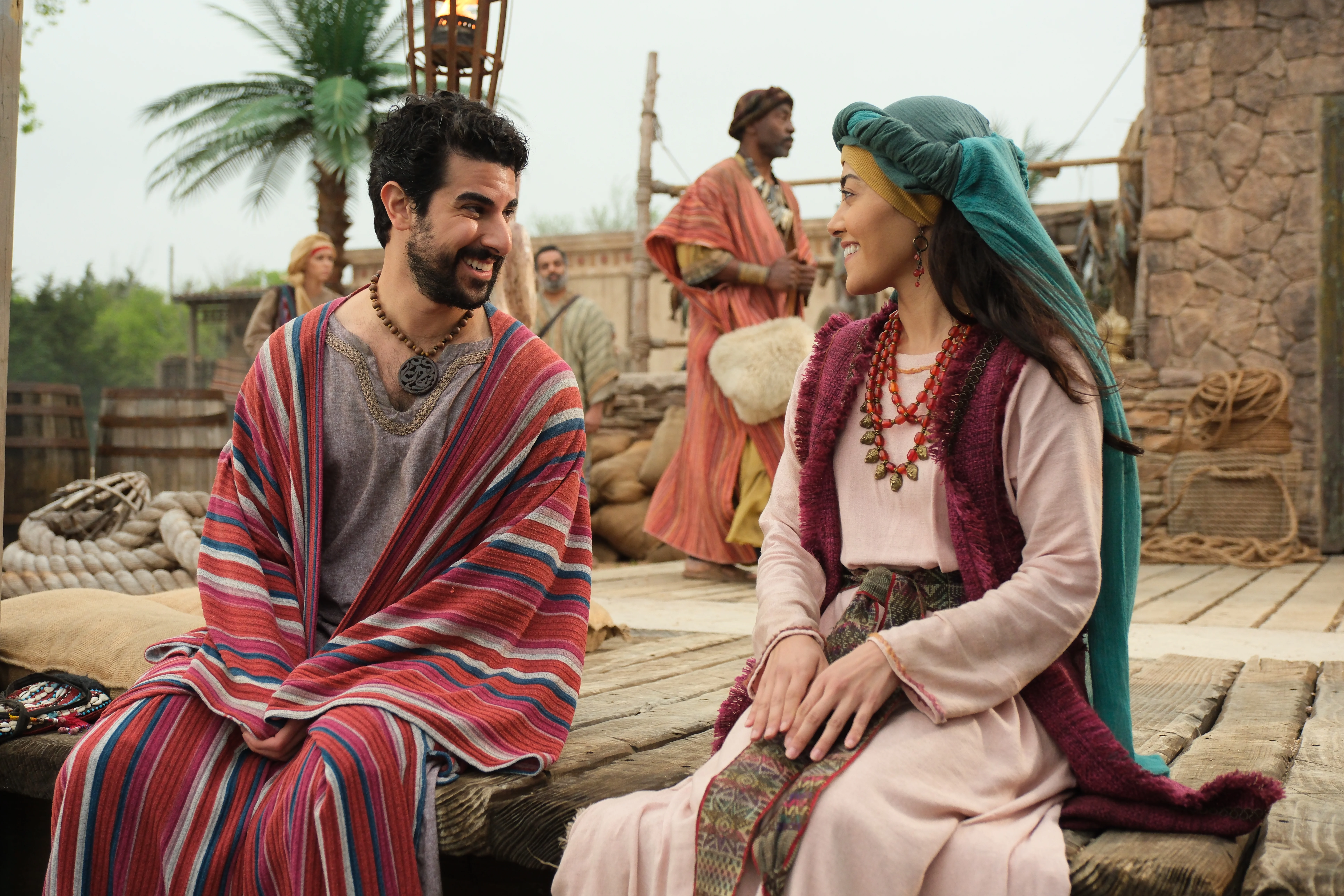 The Chosen draws upon the information in the Bible to create as accurate a depiction as possible of its events. The majority of the show's main characters are based directly on real individuals in the New Testament. We know, however, that those mentioned in the Bible could not possibly be the only ones to know and follow Jesus; because of this, The Chosen also features some additional characters in order to create a richer story and a more complete picture. While speculative, these additional characters reflect the reality that Jesus and the apostles' circle were larger than recorded.
Thomas' character in The Chosen is based on the real Apostle Thomas as mentioned in the Bible. The real-life Thomas was a devoted apostle to Jesus. He's known as "Doubting Thomas," due to his request for proof when the others informed him of Jesus's resurrection. Still, Thomas is often recorded in the Gospels as being loyal and faithful throughout his ministry alongside Jesus. Upon meeting the resurrected Jesus, Thomas fell to His feet and exclaimed, "My Lord and my God!" This proclamation made him the first to declare Jesus' divinity in recorded scripture. Thomas is believed to have brought the Gospel to India and to have founded congregations there. Thomas' character in The Chosen is similar to the Thomas of the New Testament; his faith and loyalty to Jesus and His cause are apparent in his service. 
Ramah, on the other hand, is a character invented by The Chosen filmmakers. The daughter of Kafni, Ramah worked for her father as a vintner. When Thomas came to work for Kafni, he and Ramah quickly became close. The pair decided to follow Jesus after watching Him turn water into wine and save their jobs at a wedding feast. Her character has grown in faith over the series, leading her to begin learning to read and study the Torah with Mary.
Are Thomas and Ramah Married?
At the end of Season 3, Thomas and Ramah's relationship was progressing. They were not married as of the end of the season, but the pair was working toward that goal. Last we saw the two, Thomas and Ramah had decided to get married, and Jesus and the other disciples were in support of their nuptials. 
During this season, Jesus called and set apart the apostles. He called Thomas to preach to those in the south. In support of Thomas' intentions, He sends him to the region where Ramah's father Kafni resides, in part to assist him in obtaining Kafni's permission to marry Ramah. 
When the season ended, Thomas embarked with Jesus and the apostles on a preaching mission. Ramah had long been gone on her journey to her father Kafni's home, where she and Thomas planned to meet once he'd made it there. 
We don't know where Season 4 will take our favorite pair, but Thomas and Ramah seem to be headed toward marriage in coming episodes—as long as Thomas can win over Kafni and obtain his blessing. We're excited to see Thomas and Ramah find even greater joy as they follow Jesus. Don't miss Season 4, or the newest developments in Ramah and Thomas's relationship.
How Long Have Thomas and Ramah Been Together?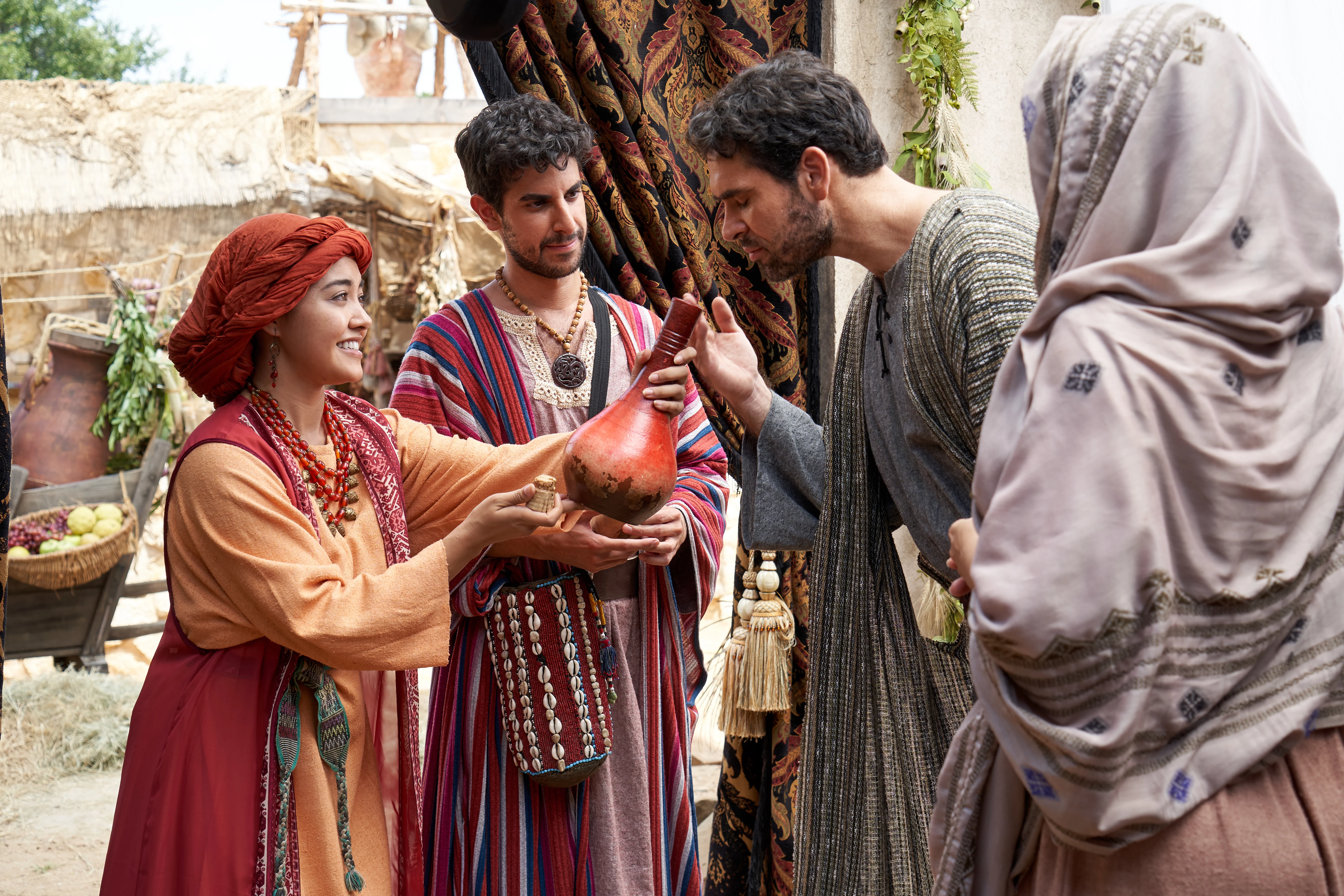 In the series, Thomas and Ramah met long before they came into the company of Jesus of Nazareth. Ramah was a vintner and Thomas was a caterer, and both worked for Ramah's father, Kafni. We first meet the pair when they work a particular wedding feast: one for a family close to Mary, mother of Jesus. 
Thomas and Ramah were witnesses to and recipients of one of Jesus' miracles. When the party ran out of wine—and reputations were in jeopardy—He turned water into wine and saved the evening. Thomas and Ramah were converted, and went to follow Him.
Season 3 saw the couple flirt and bond with each other. This warm, sometimes awkward interchange resulted in their decision to be married, to the delight of the rest of the group.
The Chosen presents a unique view of Jesus and His followers. Their relatable, human portrayals help viewers to connect with them on a deeper level.
Catch Up on The Chosen to See More of Thomas and Ramah
Season 4 of The Chosen will likely take us further along in Thomas and Ramah's story; we have yet to watch Thomas seek Ramah's hand from her father, Kafni, and to see whether or not they fulfill their plan to be wed.
Itching to find out where Thomas and Ramah's relationship goes? Catch up on all three seasons of The Chosen in the app, and stay up-to-date with the first-ever multi-season series about Jesus and His followers. 
Have you been inspired by The Chosen and its real, relatable retellings of Jesus and His disciples? Help us bring this series to the world by Paying it Forward today. 
Your choice to Pay It Forward funds future seasons and keeps Angel Studios free around the world.