< Back
The Chosen Characters: Exploring the Key Figures in the Series
by Angel Studios | September 3, 2023
Have you ever wanted to relate, on a deeper level, to Jesus and those who walked with Him? Do you wonder about their lives, relationships, struggles, and triumphs beyond the pages of the New Testament? 
The Chosen is the first-ever multi-season show about the ministry and life of Jesus. Presented by an exceptionally talented cast–and written with grit, life, and real emotion–this series allows audiences to understand Jesus and His disciples on a deeper level than ever before. 
The show includes many of those closest to Jesus as recorded in the Bible, as well as some characters expounded upon or created in support of the integral stories of the series. Discover each of The Chosen series' characters and the cast that brings them to life; learn all about each character's lives and how they connect to Jesus of Nazareth. Watch The Chosen and Pay it Forward to help us bring its powerful message to the world.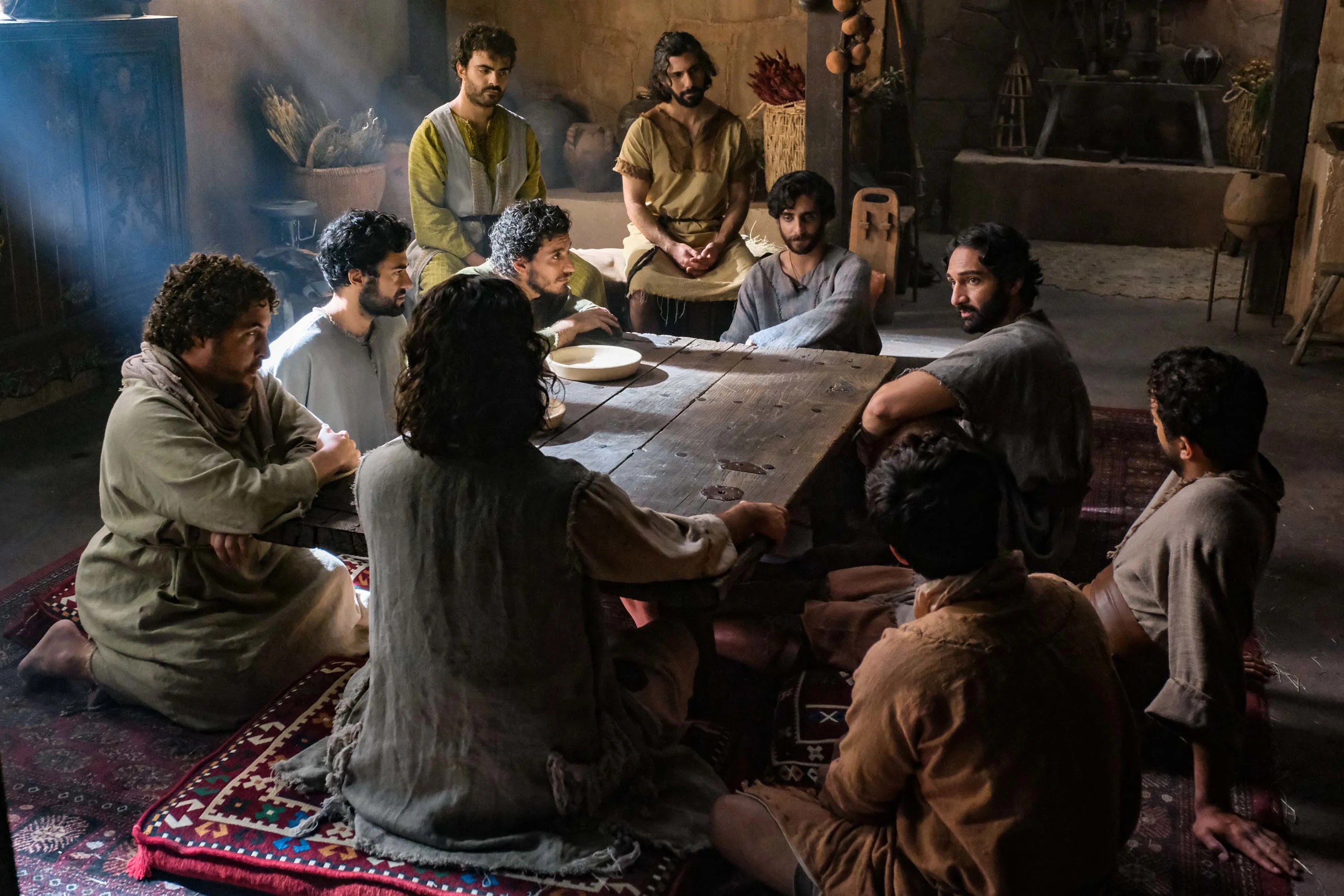 The Chosen Primary Characters
The Chosen's main cast of characters—mostly comprised of Jesus, the Apostles or disciples, and those closest to Him. 
Jesus is portrayed by Jonathan Roumie. He is also known as Jesus Christ, and is the son of Mary. To the Romans, He's a carpenter from Nazareth, a popular Jewish teacher and rabbi, and a threat to the empire. To those who know and believe, He is the Jews' Messiah and the Son of God. 
Simon is portrayed by Shahar Isaac. A charismatic fisherman with a temper and a sizable debt to Rome, Simon is rescued by Jesus and becomes one of His most loyal disciples. He's the husband of Eden, the son of Jonah, the brother of Andrew, the son-in-law of Dasha, and he fished with Zebedee and his sons.
Mary Magdalene is portrayed by Elizabeth Tabish. We first meet her as Lilith, a woman in turmoil in the Red Quarter of Capernaum and tortured by her demons. Upon a miraculous encounter with Jesus she becomes her true self again: Mary, a free, faithful, and joyful minister to all who, like her, come to Jesus for healing and rest. Young Mary was portrayed by Camila Carreon. 
Matthew is portrayed by Paras Patel. Formerly employed as a tax collector in Capernaum, Matthew left his comfortable life to serve as one of the twelve disciples of Jesus, and to learn what he could contribute to the work of God. He is the son of Alphaeus. 
Andrew is portrayed by Noah James. A former fisherman, brother of Simon, son of Jonah and friend of Philip, Andrew proved his faith as a follower of John the Baptizer, an early believer in Jesus and eventually one of His twelve disciples.
John is portrayed by George Xanthis. John is a son of Zebedee and Salome, the brother of Big James, and a former Capernaum fisherman-turned-disciple of Jesus. 
Big James is portrayed by Abe Martell. Big James is a son of Zebedee and Salome, a brother to John, a former fisherman, and one of Jesus' twelve disciples. Big James was also portrayed by Kian Kavousi and Shayan Sobhian. 
Thaddeus is portrayed by Giavani Cairo. Before serving as one of Jesus' twelve disciples, Thaddeus (also known as Jude the Apostle) was a stonemason in Bethsaida. He is the son of James. 
Little James is portrayed by Jordan Walker Ross. One of Jesus' twelve disciples and a gifted singer, Little James was supposed to be part of the 288 Jerusalem Temple Choir. He is the son of Alphaeus.
Thomas is portrayed by Joey Vahedi. We first meet Thomas at a wedding feast attended by Jesus and His disciples. He is a former caterer, business partner to Ramah, and after witnessing a miracle performed by Jesus, was called to become one of His twelve disciples. 
Philip is portrayed by Yoshi Barrigas. Hailing from Bethsaida, Philip is a friend of Andrew and Nathanael, was once a follower of John the Baptizer, and is one of Jesus' twelve disciples.
Nathanael is portrayed by Austin Reed Alleman. Once an architect in Caesarea Philippi, Nathanael (also known as St. Bartholomew) is a longtime friend of Philip, and one of Jesus' twelve disciples.
Simon Z is portrayed by Alaa Safi. Before becoming one of the twelve disciples of Jesus, Simon Z belonged to the order of the Zealots. He's the brother of Jesse, the paralytic who was healed at Bethesda.
Ramah is portrayed by Yasmine Al-Bustami.  We first meet Ramah at a wedding feast attended by Jesus and His disciples. A vintner hailing from the plains of Sharon–and the business partner of Thomas in his catering days–Ramah receives a miracle from Jesus, decides to follow Him, and joins the ranks of faithful women assisting Jesus in His ministry.  
Mary, Mother of Jesus is portrayed by Vanessa Benavente. She is the earthly mother of Jesus and the wife of Joseph. Sara Anne portrays a young Mary.
Judas Iscariot is portrayed by Luke Dimyan. A former business apprentice, Judas becomes one of the twelve disciples of Jesus. His friendship with and loyalty to Jesus meet an infamous end. 
John the Baptizer is portrayed by David Amito. John is a wandering preacher who's amassed a significant following, and whose teachings have drawn the attention of the authorities. He preaches in the wilderness and baptized on the Jordan River. John is the cousin of Jesus, and former rabbi to Philip and Andrew. 
Shmuel is portrayed by Shaan Sharma. A Pharisee serving in Capernaum, Shmuel studied under the direction of Nicodemus. 
Tamar is portrayed by Amber Shana Williams. We first meet Tamar, an Ethiopian woman, when she witnesses Jesus healing a man with leprosy; she then takes her paralytic friend to be healed by Jesus at the house of Zebedee, and shortly thereafter joins Jesus' ministry.
Quintus is portrayed by Brandon Potter. A Roman magistrate assigned to preside over Capernaum–and the Praetor of Galilee–Quintus dealt directly with Gaius, and sometimes with Matthew during his days as a tax collector. 
The Chosen Recurring Characters
Supporting characters that add faith and substance to the stories of The Chosen. 
Nicodemus is portrayed by Erick Avari. He's a prominent Pharisee, as well as a member of the Jewish religious clergy known as the Sanhedrin. Astonished at the miracles and teachings of Jesus, Nicodemus meets Him by night to seek truth and undergoes a journey of faith. 
Eden is portrayed by Lara Silva. Wife to Simon Peter and daughter of Dasha, Eden is a faithful supporter of Jesus and His ministry, and an inspiring figure with her own trials, triumphs, and growth in The Chosen.
Zebedee is portrayed by Nick Shakoour. He's a fisherman out of Capernaum, the father of John and Big James and the husband of Salome. We first meet Zebedee as he's fishing in partnership with Andrew and Simon Peter. Zebedee is faithful and supportive of his sons' traveling with Jesus. 
Salome is portrayed by Nina Leon. Salome is the mother of John and Big James, and the wife of Zebedee.
Lazarus is portrayed by Demetrios Troy. The brother of Mary and Martha and a friend to Jesus since childhood, Lazarus is also close with Mary and the other disciples. 
Mary is portrayed by Catherine Lidstone, and is the sister of Martha and Lazarus.
Martha is portrayed by Sophia Blum, and is the sister of Mary and Lazarus. 
Pontius Pilate is portrayed by Andrew James Allen. The procurator of Judea, Pilate plays a key role in the events of Jesus' life. 
Gaius is portrayed by Kirk B.R. Woller. A Roman centurion working in Capernaum, Giaus became a close associate of Matthew over the course of their work together.
Yussif is portrayed by Ivan Jasso. Yussif is a Pharisee and serves with Shmuel. 
Atticus Aemilius is portrayed by Elijah Alexander. Atticus is one of the Roman cohortes urbanae sent to perform an investigation into the Zealot group. 
Yanni is portrayed by Wasim No'mani. Yanni is a Pharisee and colleague of Shmuel. 
Madai is portrayed by Tony Sears. Madai is a Rabbi and Pharisee in Wadi Kelt. 
Lamech is portrayed by Sergio Lanza. Lamech is a Pharisee, as well as a student of Madai.
Shula is portrayed by Anne Beyer. A blind woman in Capernaum, Shula and her friend Barnaby follow Jesus after they witness one of His miracles—the healing of their friend, Mary Magdalene.
Barnaby is portrayed by Aalok Mehta. A crippled man in Capernaum, Barnaby joins Shula in following Jesus after He heals their friend, Mary Magdalene.
Dasha is portrayed by Leticia Magaña. Dasha is the mother of Eden, Simon Peter's mother-in-law, and was healed by Jesus.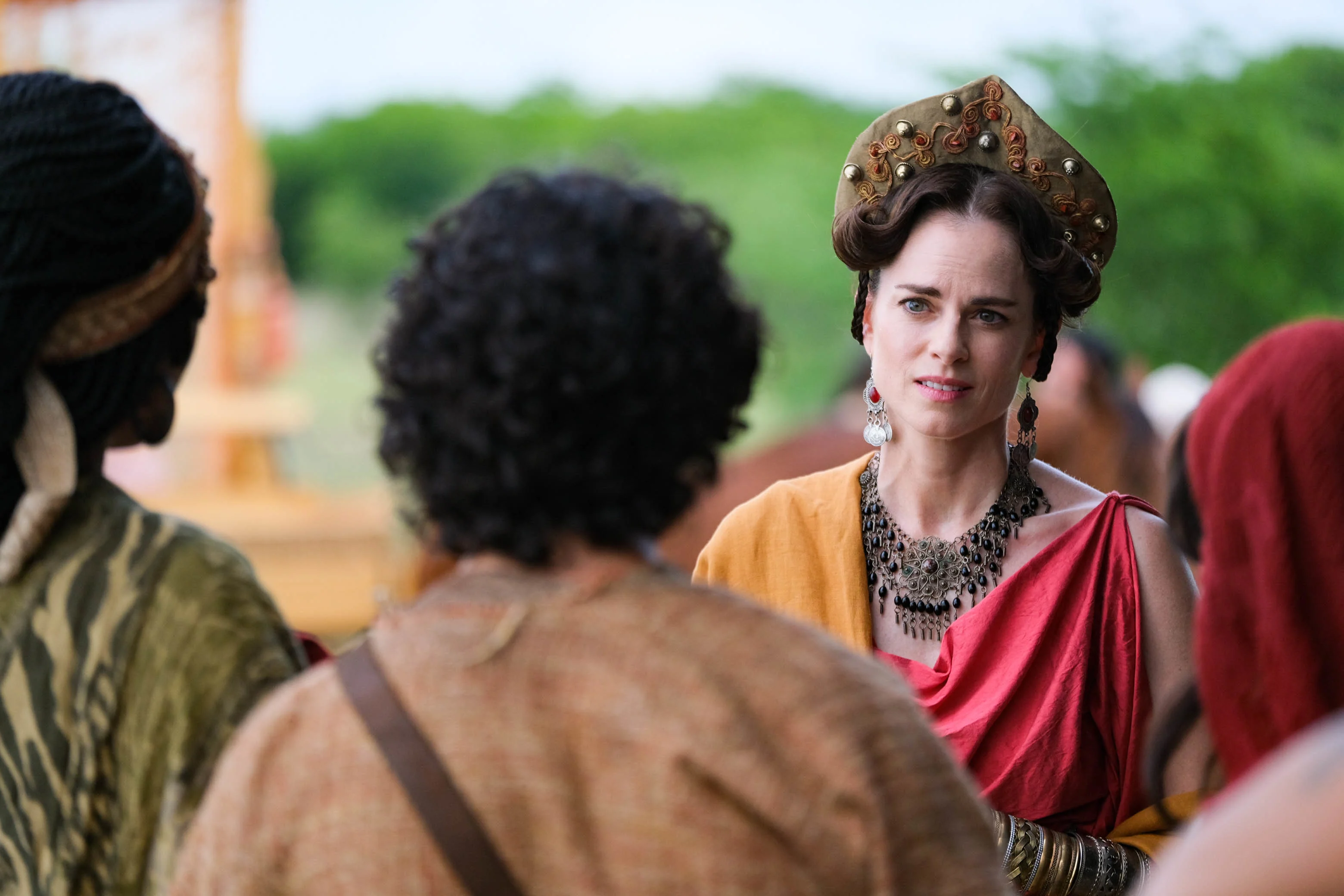 Special Participation Characters
Characters that appear briefly, but still make their mark on The Chosen series. 
The Shepherd
Joseph is portrayed by Raj Bond. He is Mary's husband and Jesus' earthly father. 
Simon is portrayed by Aaron Himelstein. Simon is a Bethlehem shepherd who witnessed Jesus' birth. 
Season 1
Zohara is portrayed by Janis Dardaris. She is the wife of Nicodemus. 
The Leper on the Road is portrayed by Stephen Hailo. Jesus miraculously healed him of his leprosy.  
Ethan is portrayed by Noé de la Garza. A friend of Tamar, Ethan was miraculously healed of his paralysis, by Jesus, at the home of Zebedee. 
Photina is portrayed by Vanessa De Silvio. Photina is a Samaritan woman–suffering through many trials–that Jesus met at Jacob's well. 
Alphaeus is portrayed by Troy Caylak. He is the father of Matthew.
Rivka is portrayed by Nene Nwoko. She is a prostitute in Capernaum. 
Season 2
Jesse (Simon Z's Brother) is portrayed by Dennis Apergis. The brother of Simon Z., Jesse was the paralytic man at Bethesda, who was healed by Jesus. 
Elam is portrayed by Shaun Bedgood. His withered hand was healed by Jesus in the Wati Kelt synagogue. 
Melech (attacker in Good Samaritan story) is portrayed by Nikhil Prakash. Jesus and His disciples meet Melech and his family; Jesus forgives him for robbing a man. It's implied that he inspired the parable of the Good Samaritan. 
Chedva (Melech's wife) is portrayed by Kenneisha Thompson. She is a Samaritan woman, and the wife of Melech. 
Season 3
Joanna is portrayed by Amy Bailey. The wife of Chuza–the manager of Herod Antipas's household–Joanna takes a special interest in Jesus' ministry. 
Veronica is portrayed by Zhaleh Vossough. Veronica is a young Jewish woman whose rare illness, or "issue of blood," has made her a pariah for twelve years. 
Jairus (Synagogue administrator) is portrayed by Alessandro Colla. He's a Pharisee that clerks in the synagogue, and his family receives a miraculous gift from Jesus in the healing of his daughter.
Claudia (Pilate's wife) is portrayed by Sarah J. Bartholomew. She experiences intriguing dreams relating to Jesus and His mission. 
Leander (Greek Friend) is portrayed by Tom Connolly. He supports Jesus and His disciples during the Feeding of the 5000.
Telemachus (Boy with Loaves and Fish) is portrayed by Kace Winfield. Telemachus donated five loaves of bread and two fish to feed the thousands-strong crowd listening to Jesus.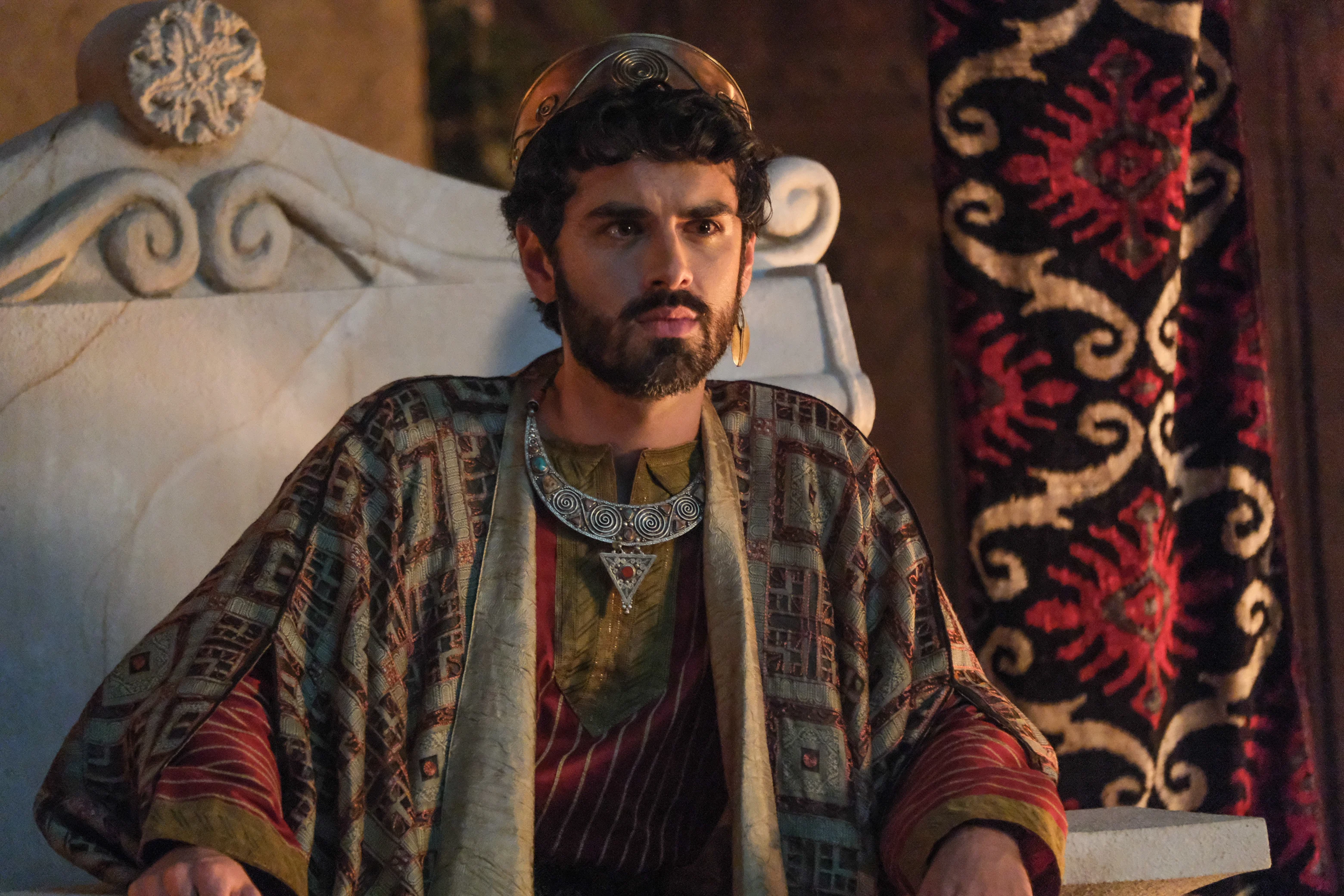 Guest Characters 
Though not from Jesus' earthly timeline, these characters–from before and after the time of the show–have a colossal impact on the story of The Chosen. 
Season 1
Moses is portrayed by Stelio Savante. The legendary Old Testament prophet led the Israelites out of their captivity in Egypt. 
Joshua is portrayed by Advait Ghuge. From the pages of the Old Testament, Joshua served Moses as his assistant. 
Jacob is portrayed by Amato D'Apolito. The father of the Israelites, Jacob is a powerful Old Testament prophet and patriarch. 
Season 2
Ahimelech is portrayed by Marty Lindsey. Ahimelech served as the high priest at Nob during the time of David in the Old Testament.  
Abiathar is portrayed by Major Dodge Jr. Abiathar is the young son of Ahimelech, the high priest at Nob during the time of David. 
Season 3
King David is portrayed by Jorge Franco IV. David is the King of Israel and an ancestor of Jesus. 
Jeduthun (Composer) is portrayed by Moud Sabra. Jeduthun is a composer in the court of King David.
Asaph (Psalmist) is portrayed by Pezh Maan. Asaph is a Psalmist in the court of King David.
Your choice to Pay It Forward funds future seasons and keeps The Chosen free around the world.