< Back
Who is Eden in The Chosen?
by Angel Studios | August 20, 2023
The Chosen has introduced several characters that, while they aren't explicitly named in the Bible, provide a fullness and added richness to the accounts of Jesus' ministry. While Simon's wife is only implied to exist in the New Testament, The Chosen brings to life Eden, devoted wife to Simon Peter turned dedicated and faithful follower of Jesus. Read on to find out everything you need to know about Eden, and why she's so essential to the show. 
Meet Eden in The Chosen Series
The Bible speaks of Jesus healing Simon Peter's mother-in-law. Though we don't become directly acquainted with the apostle's wife in the New Testament, we know from this passage that he was married. 
Eden, the character in The Chosen representing Simon Peter's wife, is a Jewish woman with powerful faith and conviction. Her compassionate and hospitable nature, as well as her sharp tongue, make her the perfect counterpart for the fiery Simon shown in The Chosen. 
When the first season began, Simon had found himself in serious trouble, unbeknownst to Eden. His debts to Rome were mounting, and Eden's ill mother had come to live with them. It's ultimately Eden's urging that gets Simon out on the water, which would lead to his meeting Jesus and experiencing the miracle that started it all. 
When Simon introduces Eden to Jesus, and expresses his desire to follow Him, Eden's delighted, supported, and proud of his conversion. Jesus heals Eden's dear mother Dasha from her illness and commends Eden for her faith, strength, and perspective in allowing Simon to join the movement.
For Eden and Simon, following Jesus proves to be more difficult than anticipated. Eden remains silent and hesitantly supportive as Jesus sends Simon out of town to serve and preach, but very real trials—among them miscarriage, potential infertility, miscommunication, and crises of faith—start to complicate her discipleship and strain their marriage.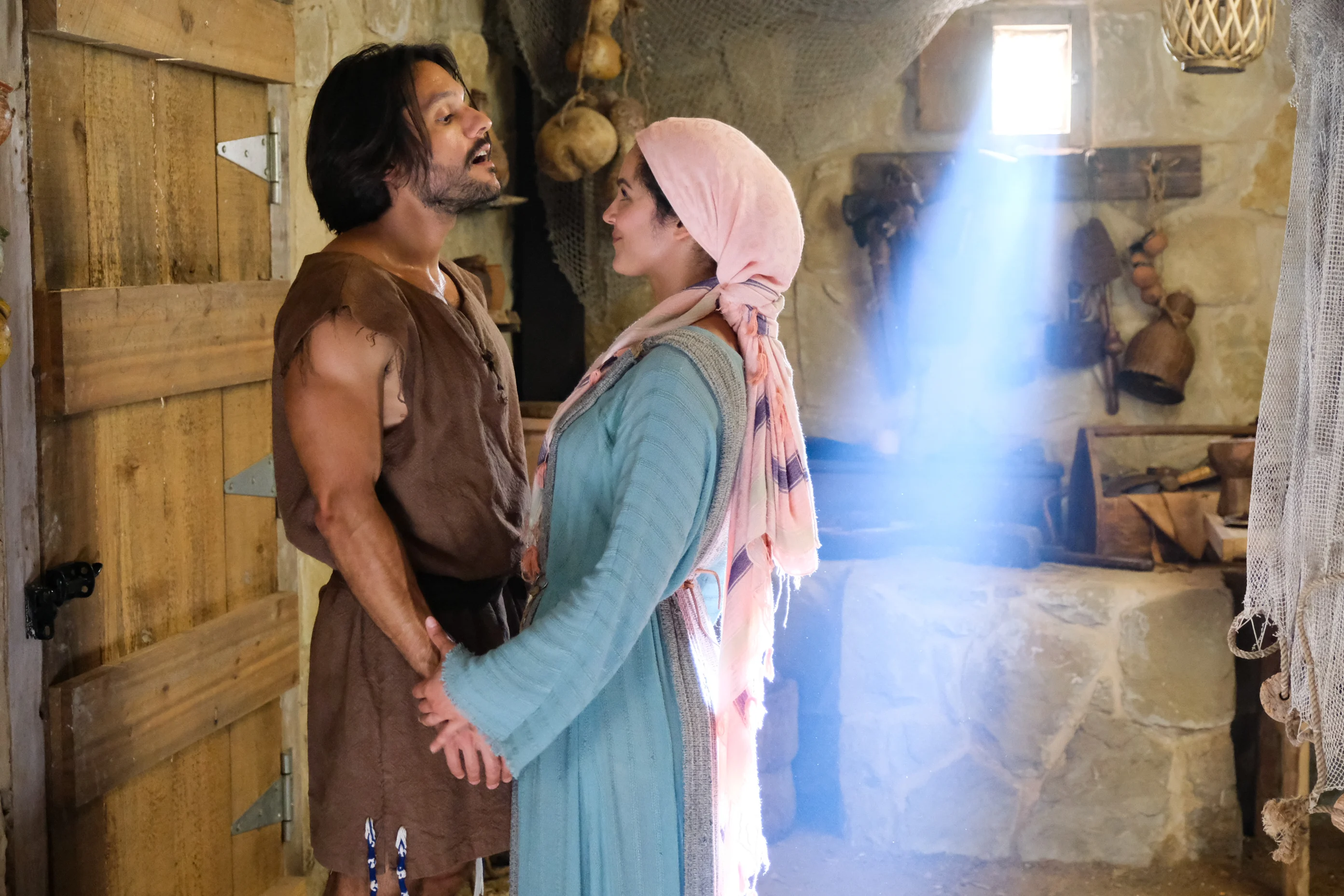 The Relationship Between Simon and Eden
While it's entertaining and endearing to watch Eden and Simon playfully interact and affectionately banter, there is certainly a lot to be learned from their relationship—from both its triumphs and its pitfalls. 
From the start of the first season of The Chosen, Simon and Eden demonstrate very real- and all-too-relatable marital habits, functional and dysfunctional. When Simon is indebted to the Romans and nearing dire consequences, he hesitates to tell Eden out of fear and guilt. The pair disagree on having Eden's sick mother-in-law stay in their home during the tumultuous time. 
The pair's decision to follow Jesus is not the end of their struggles. Though it seems a simple enough decision for the couple at the moment, Eden and Simon's newfound mission presents its own set of challenges. Jesus almost immediately sends Simon away to minister to the people, leaving Eden to deal with her trials and troubles alone, and leaving her feeling guilty for feeling so lonely and let down.
Simon and Eden's relationship, like those in real life, deepens as they pass through periods of difficulty, mistrust, and confusion. When their marriage strains or stretches, the two learn what they need to learn and eventually come back together, ready to help and strengthen each other. 
Eden's Journey and Challenges in The Chosen
The fifth episode of The Chosen Season 3 is fraught with complex concepts and comparisons. The episode begins with a harrowing scene, in which a pregnant Eden rushes to Capernaum's doctor's home in the middle of the night, bleeding profusely. She had suffered a miscarriage, and Simon was gone—along with Jesus, her rabbi and, by then, a famous healer and worker of miracles.
Over the course of the show thus far, we'd watched countless individuals become healed at the merciful and powerful hands of Jesus. The paralyzed have walked, the blind receive their sight, and nearly every manner of disease and disability have proven to be no match for Jesus, as His name becomes all but synonymous with healing throughout the nation. So, if all this is true of the teacher that she and Simon had devoted so much to, why wasn't Eden's baby saved? Why were Jesus and her husband called away in her very hour of need, tending to the needs and maladies of strangers?
Within the same episode, as Eden silently struggles with her pain, Jesus returns to Capernaum and performs two groundbreaking miracles: the raising of Jairus's daughter from the dead, and the healing of a woman who had suffered from a rare blood disease for over a decade. There are happy, incredulous tears, cheering and celebration. Through it all, however, we see Eden looking on, visibly betrayed and shaken. 
Eden's experience isn't necessarily unique. Throughout the Bible, as well as throughout history, even the best of people have wrestled with the reality that some of the disease and difficulties that they endure, are taken from others (sometimes miraculously). Eden teaches us the powerful yet hard truth that some of our struggles are meant to be taken away from us, and some are meant to be endured.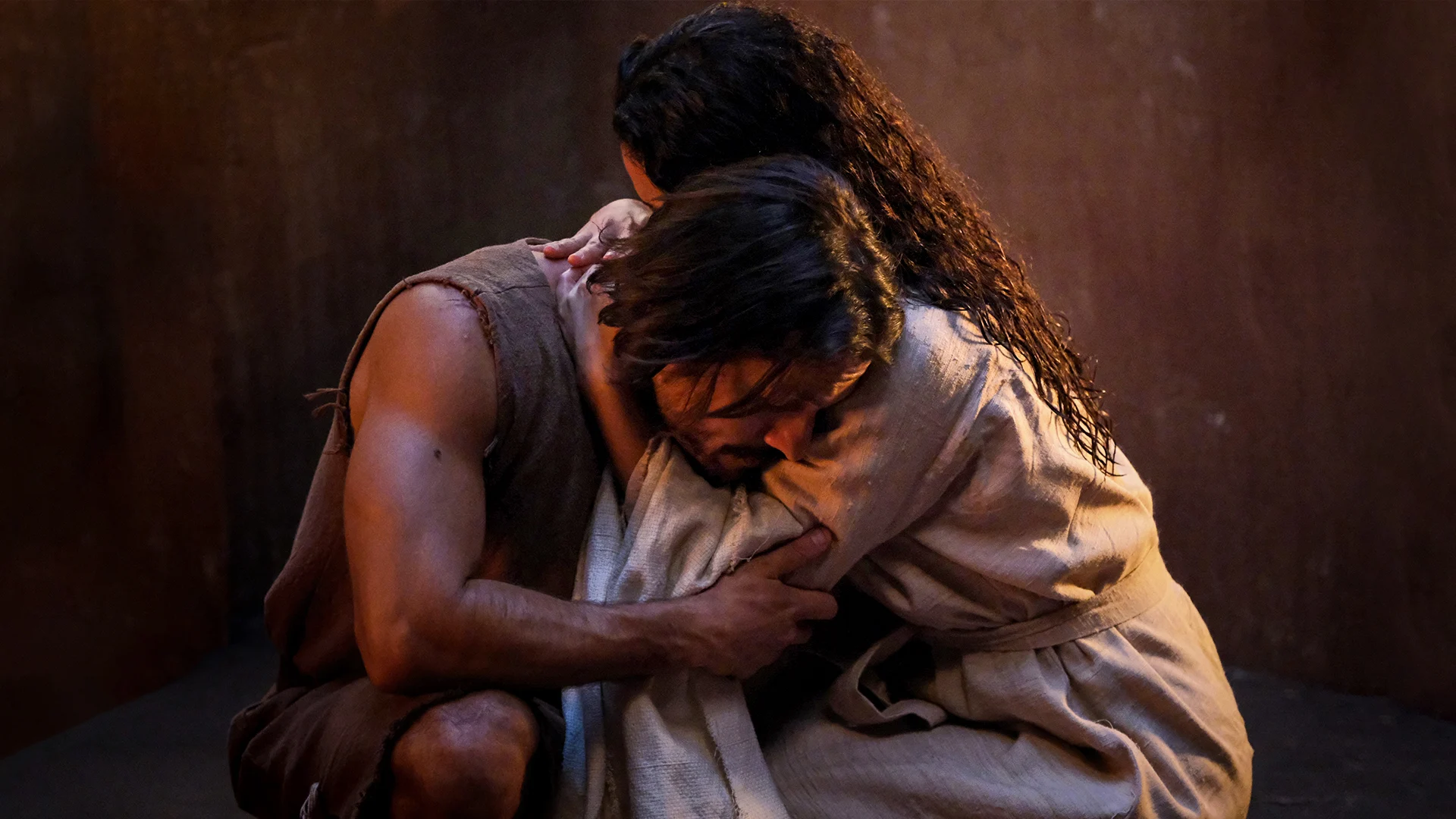 Uncovering the Truth: Miscarriage in The Chosen
Eden's miscarriage—a haunting, raw, and sobering event that marked a shift in her character and in Simon's—is just one of the many events in The Chosen that help us to relate better to the individuals that walked with Jesus. Eden's fear, her loneliness, and her grief are mirrored in our own lives; her reaction to them, as well as what she learns about Jesus through her troubles, can be powerful lessons to each of us. 
If you want to discover Jesus and His followers in a new way, and in this remarkably unique and powerful setting, head over and watch Season 3 Episode 5 of The Chosen. Discover and connect with Eden's vulnerability, and learn from her strength as you watch her endure her biggest challenge yet. 
Who Plays Eden in The Chosen?
The character of Eden, as we know and love her, is brought to life by dedicated actress Lara Silva. Born in Brazil, Silva has created an illustrious career on the screen. Besides her role in The Chosen, she has enthralled audiences in her performances as Luna Moreno in fan-favorite drama Dynasty, and as Luz in action-packed crime thriller Queen of the South. 
Lara Silva has credited the success of her acting career to her faith. "It was a connection for me," Silva said in a recent interview. "I can't tell one without the other…I can't tell my acting journey without Jesus and vice versa."
Learn More About the Stories in The Chosen
The Chosen, with all the complex and highly relatable characters it has to offer, is a must see for everyone! Watch all three seasons of the hit show here. Once you've been fully inspired, contribute to our Pay it Forward program so millions around the world can experience The Chosen too. 
Your choice to Pay It Forward funds future seasons and keeps The Chosen free around the world.