< Back
Did Mary Magdalene Backslide in the Bible?
by Angel Studios | October 1, 2023
Mary Magdalene is one of the most fascinating and studied figures in the Bible. She was present for all of the pivotal moments in Jesus' life, including the final hours of His mortal life and right after His resurrection. In fact, she is mentioned by name twelve different times across the four Gospels, which is more than most apostles.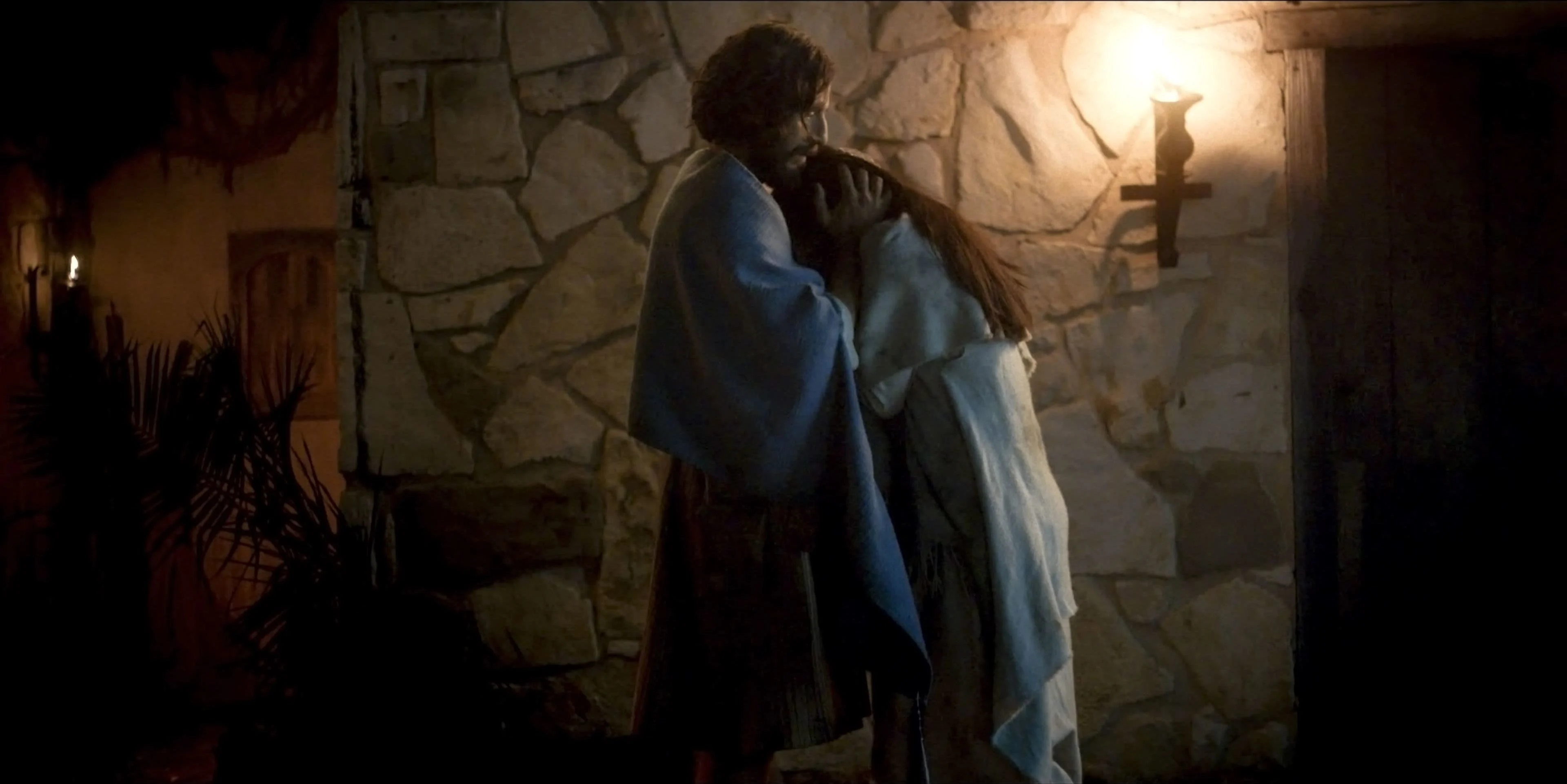 But before Mary Magdalene was a devoted follower of Jesus and leader of women, she was consumed by seven demons and healed by Jesus, as depicted in The Chosen Season 1 Episode 1. This is biblically accurate as told in Mark 16:9 and Luke 8:1-3. 
While many are familiar with the account of Jesus casting out Mary's demons, many still wonder if Mary Magdalene relapsing and sinning again, as depicted in The Chosen Season 2 Episode 6, "Unlawful," is also biblically accurate. 
So did Mary Magdalene really backslide in the Bible? When did Jesus cure Mary Magdalene? When was Mary Magdalene fully healed? Read ahead to find the answers. 
Who Was Mary Magdalene?
Because Mary Magdalene is mentioned dozens of times in the New Testament, we know her as many things. She traveled with Jesus' disciples (Mark 15:40-41; Luke 8:1-3), she stood at the cross and mourned Jesus' crucifixion (Matthew 27:56; Mark 15:40; John 19:25), she was the first to see and talk to Jesus after his resurrection (Matthew 28:9; John 20:14), and she continually testified that He is the Christ (John 20:14). 
But before she became a follower of Christ, Mary Magdalene was called Lilith, which in Jewish folklore means demon. While there is no mention of Lilith in the Bible, we first hear Mary Magdalene called Lilith in The Chosen Season 1 to characterize that she was possessed of evil spirits at the time she met Jesus. 
When Did Jesus Cure Mary Magdalene?
As depicted in Season 1 Episode 1 of The Chosen, "I Have Called You By Name," we meet Lilith, later known as Mary Magdalene. She is living in Capernaum and is consumed by demons. Not only that, but she was suffering from seven maladies, which take the form of both physical and emotional illnesses. Even Nicodemus attempted an exorcism, but to no avail.  
It isn't until the end of the episode that Mary meets Jesus for the first time and is healed instantly. Unlike everyone else in Capernaum, Jesus calls Mary by her name and declares: "You are mine." Her life of turmoil met its end just as Jesus put his hands on her head.
When Was Mary Magdalene Healed? 
We see Mary Magdalene transformed and fully healed in The Chosen Season 1 Episode 2 when Nicodemus approaches her, dumbfounded that she is a completely new woman. It's no wonder Mary was a devout follower of Jesus her entire life—with one touch He healed her from years of darkness and abandonment. She was finally free to live the life God intended for her and she spent the rest of her days proclaiming that Jesus is the Christ. 

Did Mary Magdalene Backslide in the Bible?  
Though Mary Magdalene was redeemed in The Chosen Season 1, her character takes an unexpected turn in Season 2. In The Chosen Season 2 Episode 6: "Unlawful," we see Mary struggle after Belial calls her Lilith, symbolically representing her old identity. This upsetting exchange leads Mary to abandon the disciples and flee back to her old life of drinking and sinning. Mary eventually returns to Jesus and is stunned to receive his immediate forgiveness.
While this episode does an incredible job of illustrating the power of love and forgiveness, Mary Magdalene did not actually backslide in the Bible. Though this episode is not biblically accurate, the writers wanted to show the complexity of Mary's character and illustrate that people continually sin even after being healed. 
Watch this clip to get more insight into the storytelling of The Chosen Season 2 Episode 6:

Help bring The Chosen to the world. Pay it Forward today and help amplify its message. You can stream the show for free, in the Angel Studios app or on our website.
Your choice to Pay It Forward funds future seasons and keeps The Chosen free around the world.