< Back
What is Pay it Forward at Angel Studios?
by Angel Studios | September 5, 2023
What is Pay it Forward?
Pay it Forward is patent-pending technology from Angel Studios which empowers viewers from around the world to make contributions to their favorite Angel Studios' shows and movies. 
Because Angel Studios' shows stream for free, these Pay it Forward dollars go toward funding future productions and enable filmmakers to continue making free, high-quality content. When you Pay it Forward to your favorite show or movie, you are eligible for certain perks which can include having your name in the credits, set visits, attending premieres, etc. 
Whether you're watching a movie on the Angel TV app or binging new episodes on your phone, you'll find a Pay it Forward button. You can select from either a one-time payment or monthly payment option and voila! You've put your dollars toward content that the whole family can feel good about. After you Pay it Forward, you can track how many people you've impacted and unlock any well-earned perks.
What is the difference between Pay it Forward and Investing?
Both benefit the project. However, an investment is the purchase of investment shares from the issuer (aka, filmmaker) with the hope of a monetary return on that investment. A Pay it Forward purchase benefits the production, but has no expectation of a monetary return. Instead, when you Pay it Forward we offer certain perks which include the opportunity to help share the show with more people across the world.
How did Pay it Forward start?
Angel Studios acquired The Chosen in 2018 and quickly helped crowdfund over $10 million to fund its first season, making it the most successful crowdfunded TV series to date. As the popularity of The Chosen began to skyrocket during the early days of the pandemic, Angel Studios wanted to make the show free to watch for everyone stuck in their homes. Simultaneously, fans around the world were eager for more opportunities to help guarantee the creation of future seasons. Enter: Pay it Forward.
Instead of just being an initial crowdfund investor, Angel Studios' created a Pay it Forward platform that enabled millions of fans from around the world to contribute to the longevity of the show and keep it free to watch. Fans quickly united around this initiative and helped raise millions of dollars towards the creation of seasons 1-3 of The Chosen. 
How does Pay it Forward help my favorite shows?
A Pay it Forward purchase contributes exclusively to the specific project you give to. For example, if you Pay it Forward to The Chosen, your dollars won't go toward creating new episodes for The Wingfeather Saga. If you would rather contribute to all Angel Originals, there is an option to Pay it Forward to Angel Studios. 
Whether you Pay it Forward to multiple shows or Angel Studios as a whole, here's how your contributions help these projects:
Create Future Episodes and Seasons
Every Pay it Forward contribution helps directors, writers, animators, and so many other creators do what they do best without charging exorbitant theater prices or monthly fees.
Make Content Free To Watch
Not only does Pay it Forward benefit you, but it allows you to amplify light around the globe. Because streaming has high costs attached to it, your dollars are helping technology run smoothly so people can enjoy high-quality, entertaining content.
Gain Special Perks and Rewards
You can earn perks based on your level of Pay it Forward. Perks are decided by the individual creators. This could be a set visit, your name in the credits, or something special from your favorite show!
How does Pay it Forward help with theatrical releases? 
Angel Studios adapted its Pay it Forward model to work for theatrical releases. This Pay it Forward ticket model allows viewers to Pay it Forward for a particular movie so other people can see the film in theaters for free. Through this model, viewers can cover the cost of actual movie tickets so millions of people can see a film at no cost. 
This model was first introduced with Angel Studios' His Only Son which generated 20,000 free tickets. In 2023, this model helped propel Sound of Freedom to earn over $175 million at the domestic box office, generating millions of dollars in Pay it Forward tickets.
Where does the Pay it Forward money go?
When you Pay it Forward to shows, the money goes toward funding future seasons and ensuring that content stays free for viewers around the world.
When you Pay it Forward to theatrical releases, the money goes toward purchasing movie tickets for those who otherwise wouldn't be able to afford them. If all the Pay it Forward tickets are not claimed, the remaining funds are used for streaming costs and helping filmmakers create additional content.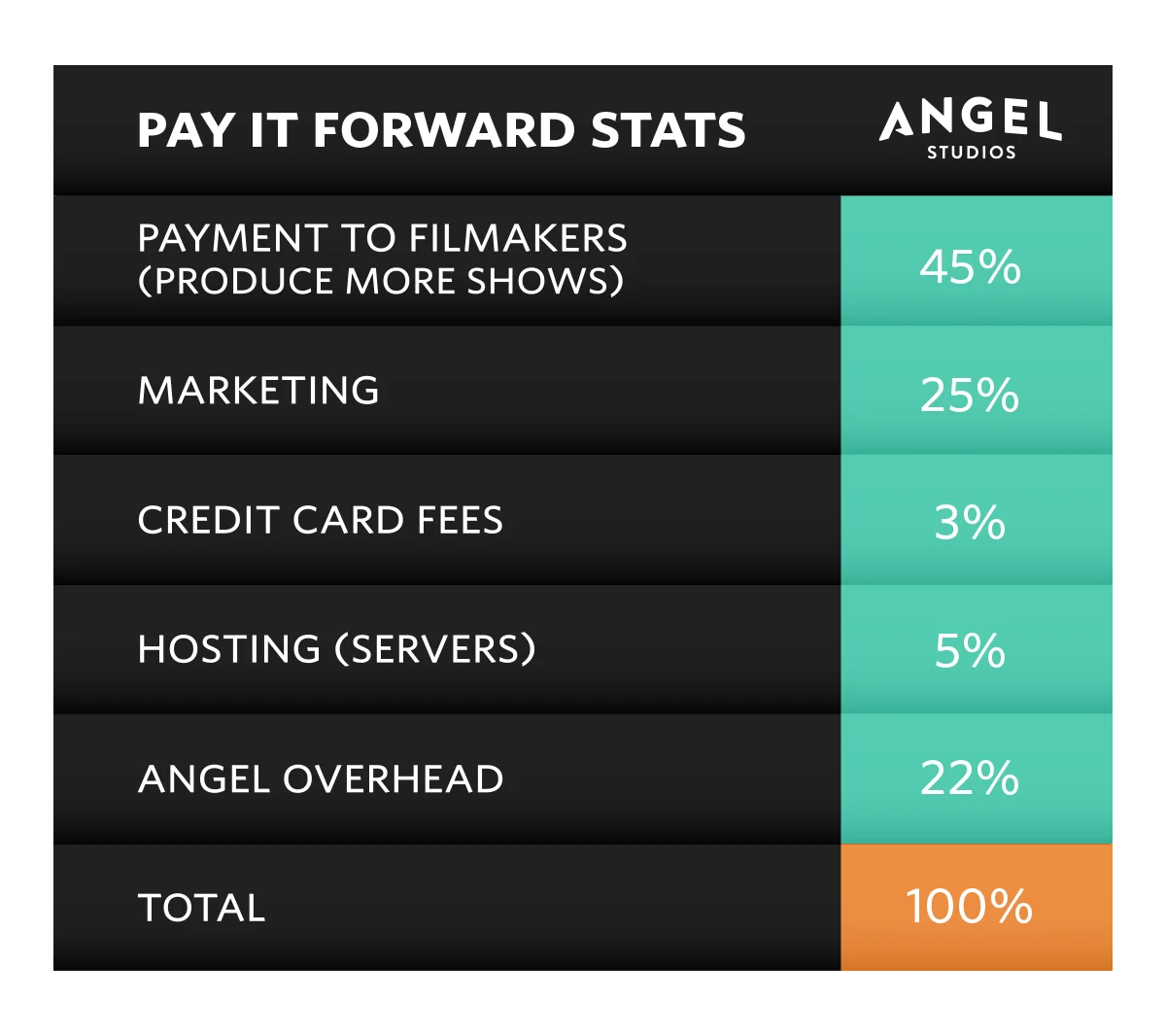 What is the impact of Pay it Forward? 
Pay it Forward has revolutionized the entertainment industry by enabling viewers to play a part in creating and sharing stories that they deeply care about. From launching The Chosen to an international phenomenon, to propelling Sound of Freedom to the #1 movie in America on its July 4th release, Pay it Forward has empowered millions of people to take ownership of their media and help spread impactful messages to every corner of the globe.  
Your choice to Pay It Forward keeps Angel Studios free around the world.