< Back
Introducing Angel Collectible Scenes for The Chosen
by Angel Studios | February 2, 2023
Update: Due to high interest, we have extended the time frame for claiming Angel Collectible Scenes. Get yours fast before this offer closes.
We want to give you a one-of-a-kind gift during the LIVE Premiere of the Season 3 finale of The Chosen in the Angel Studios app.
Episode 7 – February 5th at 7 pm ET
Episode 8 – February 7th at 9 pm ET
As Season 3 of The Chosen reaches its final two episodes, Angel Studios has a surprise for the hundreds of thousands of you who have made this show possible!
Many of you gave part of yourself to The Chosen by investing or Paying it Forward, and now Angel Studios is giving part of the art of The Chosen to you.
Here's what you need to know:
Angel Studios is the exclusive home of digital collectibles for The Chosen, which we will be launching officially in May 2023 at our annual Illuminate event in Provo, Utah.
During the Season 3 Finale Livestreams, we are giving those of you who invested, Paid it Forward, or are Paying it Forward monthly the chance to reserve the very first Angel Collectible Scenes as a gift to say thank you.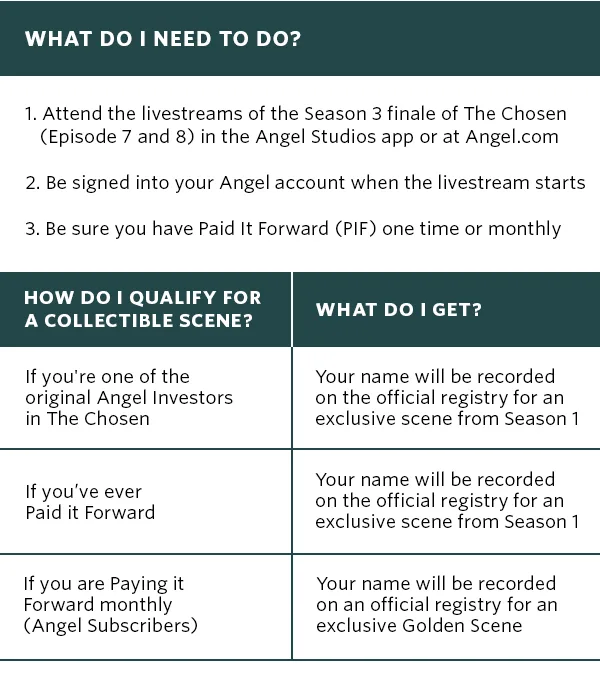 Make sure you are signed in to the same account you used to Pay it Forward. You can Pay it Forward this week and still qualify. MAX gift per person is 3 Collectible Scenes. Between now and May 2023 you will be able to customize the name recorded on the official registry.
What Are Angel Collectible Scenes?
Angel Collectible Scenes are unique and original because they digitally record your unique contribution for future generations to see how you helped make The Chosen happen. We call this your digital signature. These Collectible Scenes will show right in the Angel app for millions of people to see as they watch The Chosen.
Golden Scenes
People who Pay it Forward monthly not only are helping us make great shows that amplify light, but they also can claim the most beloved scenes of The Chosen. Here are a few examples of fan favorite Golden Scenes:

See You Soon
If you have supported The Chosen by investing or Paying it Forward, we are offering you an Angel Collectible Scenes from The Chosen if you attend the Season 3 finale on February 5th or 7th. This gift represents our efforts to honor and acknowledge your contributions. We have put our utmost care and attention into creating a beautiful registry to reflect your impact on the show. We look forward to sharing it with you at our annual Illuminate event this May. Thank you, Angels.
Gratefully,
Neal Harmon
Co-founder & CEO
Angel Studios
---
HISTORY OF ANGEL COLLECTIBLE SCENES
For the last two years at Angel Studios, we've been working extremely hard on "A New Thing"–it's an invention combining historic digital signatures and original scenes from The Chosen that will honor exactly when, where, and how your personal impact has spread. 
The Value of a Signature
On July 4, 1776, John Hancock signed The Declaration of Independence. 55 additional signatures went down in history, not only representing individual commitment to the cause of freedom, but also the collective determination of a people to break free from oppression and pave their own path in the world. The sacrifices represented by their signatures are woven into the fabric of a founding document that we all now remember forever.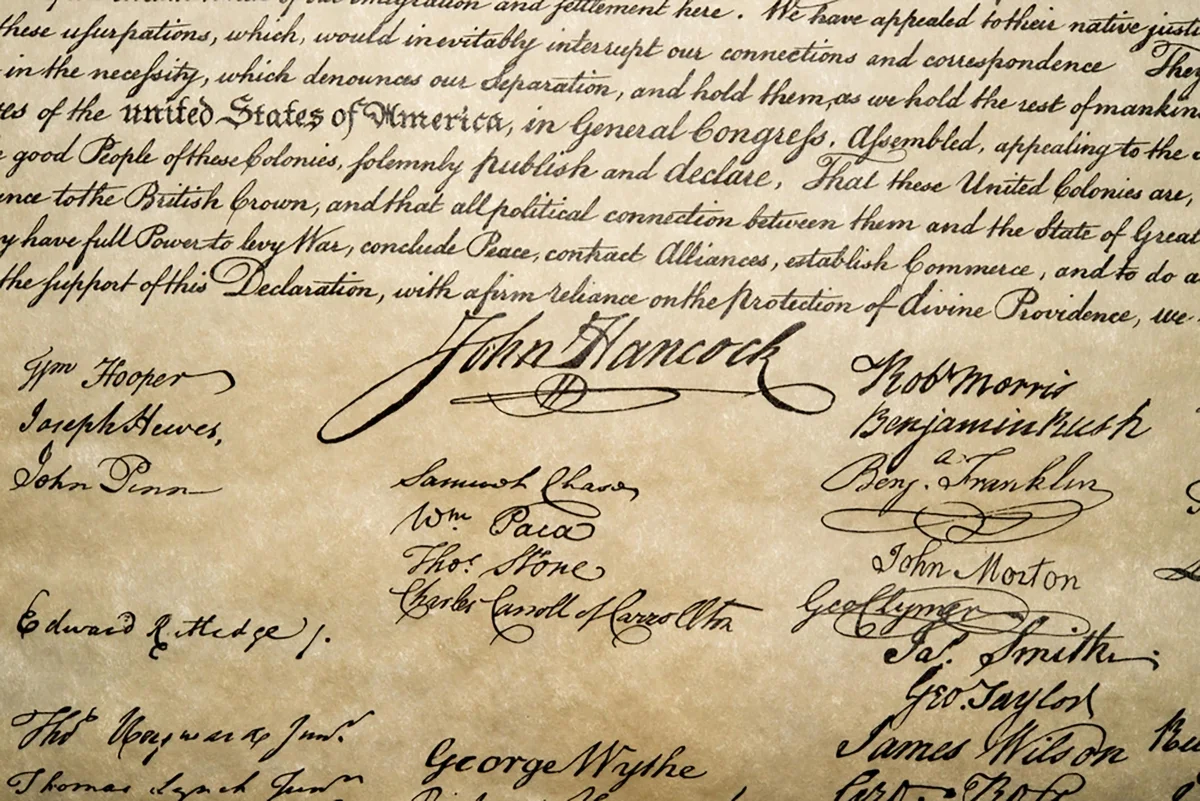 The Value of Original Film Art
Two years ago, in February 2021, Susan Warner, an octogenarian neighbor, shared a personal account of her time working at Disneyland in 1958. Her recollection detailed an encounter with none other than Walt Disney himself. 
"Disney often walked through the park greeting employees because he had an apartment on main street in Disneyland. At 18, I worked in one of the souvenir booths and we had stacks of animation paintings that we sold in the park. I wish I would have bought one!" 
The hand-painted animation drawings of films such as Snow White and other iconic Disney productions sparked an idea for a special gift that I'm about to share with you. A select few of these original works have been preserved to this day, and we were fortunate enough to acquire one such rare heirloom from 1937 on an auction website for $15,000. As a tribute to the inspiration that Susan Warner's personal story of working at Disneyland as a teenager evoked, we have prominently displayed it on the wall of our office at Angel Studios.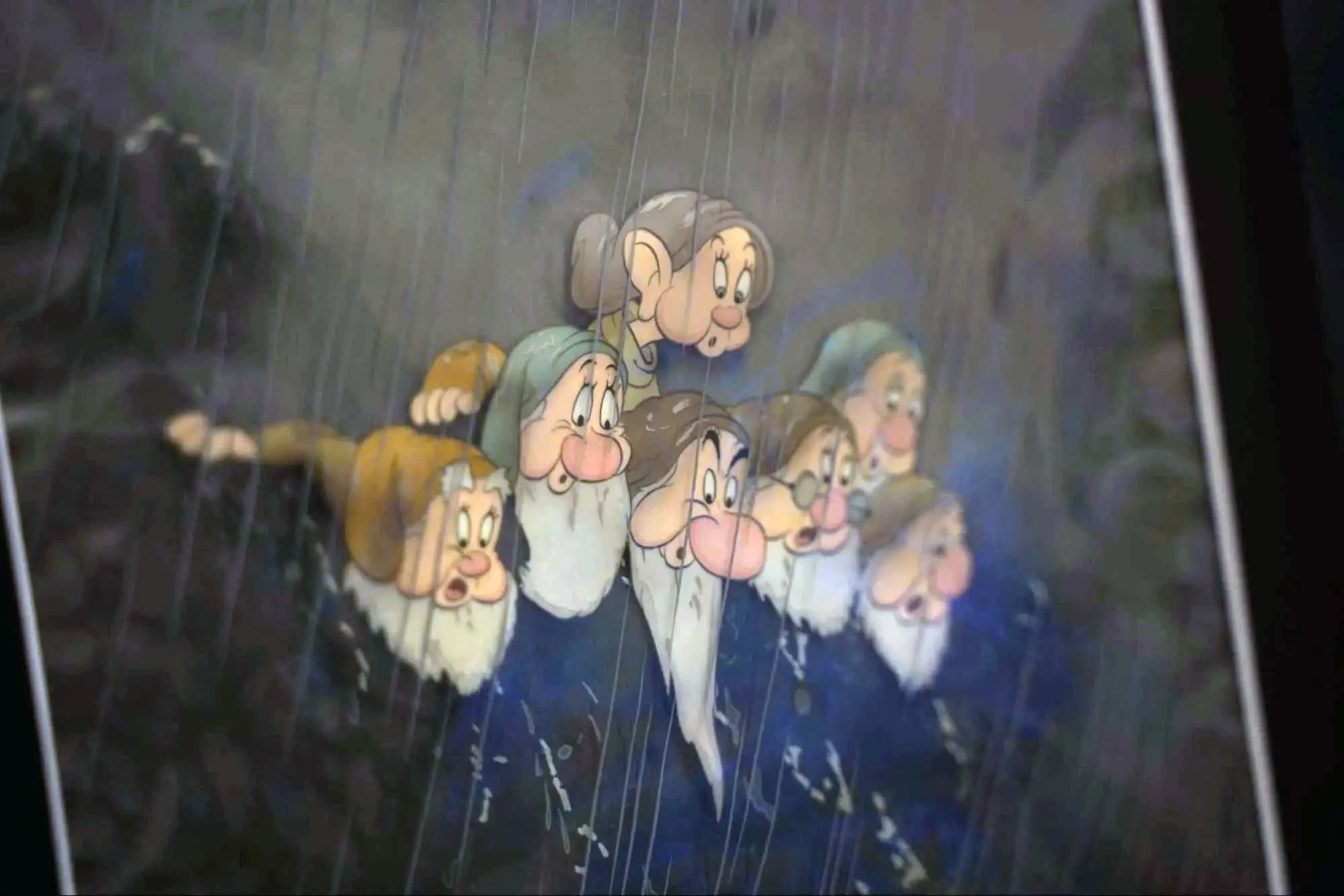 Honoring You With "A New Thing"
The Chosen may not be hand painted, but the effort and dedication that went into creating its beloved scenes are just as tangible as those in a hand-painted work. You who contributed to bringing The Chosen to its current level of success, through investments or Paying it Forward, have effectively "signed your names" to a project with global reach and impact.
For example:
On June 15, 2018 at 8:32 p.m., a lady from Colorado Springs, Colorado made the first investment in The Chosen. Almost 19k additional people joined her to invest $10 million to make Season 1 possible. In fact, she and thousands more are the reason we renamed our company Angel, after the Angel investors.
On November 24, 2019 at 7:20 p.m., a man from Monroeville, Pennsylvania was the very first person to Pay it Forward to The Chosen. So far, thanks to John:
83 people from 13 countries have watched an episode of The Chosen.

Six of those Paid it Forward for 1,346 people from 74 countries.

35 of them Paid it Forward for 6,646 people from 110 countries.
On February 13, 2020 at 6:45 p.m., Jannie from Australia, was the very first person to Pay it Forward monthly and is still doing so to this day! The impact of her support is difficult to comprehend. So far, thanks to Jannie:
1,159 people from 68 countries have watched an episode of The Chosen.

48 of those 1,159 people Paid it Forward for 10,802 people from 137 countries.

349 of those 10,802 people Paid it Forward for 109,819 people from 195 countries.
 There are so many more stories worth sharing.
Angel Collectible Scenes
As you can see from parallels in history, Angel Collectible Scenes capture the value of your digital signature and impact with the value of original scenes from The Chosen as our thank you gift to those of you who helped us make and spread this show.
---
QUESTIONS AND ANSWERS
Has this ever been done before?
No. This is a new thing. Just like Pay it Forward and airing an entire TV show for free all over the world, this has never been done in film before. You get to be part of creating another historical moment.
How are you going to record my name into the registry with my associated scene?
Your name will be recorded on a registry using a secure technology called blockchain and non fungible tokens. Simply put, it means your name is written into the permanent record of Angel Studios and The Chosen. It might be complex to understand how it works, but please know that your name will be preserved into the annals of history for Angel Studios and The Chosen.
When will I be able to claim my scene?
Assuming you've invested or Paid it Forward, attend the Season 3 Finale (Episodes 7 & 8) livestreams in the Angel App on February 5th at 7 p.m., ET, or February 7th at 9 p.m., ET, to claim your scene.
When do I receive my Angel Collectible Scene of The Chosen?
We'll be sending this gift to those who qualified and claimed it in May 2023 at our annual Illuminate event in Provo, Utah.
Can I receive my Golden Scene in May IF I stop Paying it Forward monthly?? 
No. By signing up to monthly Pay it Forward, you are reserving your Golden Scene. If you cancel your monthly plan before receiving the Collectible Scene in May, you will lose your reservation. In May, after you use your reservation to get your Fan Favorite Angel Collectible Scene, it's yours regardless of whether you have a current monthly plan.
If I sign up for Pay it Forward monthly right now can I still get my collectible scene from the Golden Scenes?
Yes, if you sign up right now you can still receive a Golden Scene. 
How many scenes will you be giving away?
Every Angel Collectible Scene has an inherent mathematical limit based on the language and runtime. For example, a hypothetical 100 second scene (1 minute 40 seconds) will be limited to 2,400 spots in English (The Chosen cameras captured at ~24 frames per second): 1 of 2,400, 2 of 2,400, … 2,399 of 2,400, and finally 2,400 of 2,400. After the limit is reached, the only way to acquire the Collectible Scene is to purchase a spot from one of the 2,400 people who already have one. However, if you love your scene, you can hold onto it and pass it down to your children and grandchildren. 
How do I pass this down to my children and grandchildren?
There will be two ways to pass an Angel Collectible Scene down to your children and grandchildren. 
You will be able to transfer it to them using your Angel account to transfer to their Angel account. This way will be as easy as sending an email. 
If you're into blockchain technology, you will be able to export the private keys of your scene to a private wallet and share it with others that way. 
Angel Collectible Scenes are subject to Angel Studios' current terms and conditions and the terms and conditions as of May 2023. 
To reserve a Collectible Scene, you must complete all the steps outlined above. Collectible Scenes will be delivered as digital goods in May 2023 and no physical copy or adaptation will be available on initial delivery. More details on the Collectible Scenes coming soon.
---
Summary of Ownership Characteristics of Angel Collectible Scenes
Ownership of an Angel Collectible Scene is a limited form of ownership. Angel Studios grants you a worldwide, royalty-free license to use, copy, and display the Angel Collectible Scene, solely for the following purposes: (i) for your own personal, non-commercial use; and (ii) as part of a third party website or application that permits the inclusion, involvement, or participation of your Angel Collectible Scene, provided that the website/application cryptographically verifies each Collectible Scene owner's rights, and provided that the Underlying Digital Art is no longer visible once the owner of the Angel Collectible Scene owner leaves the website/application.
Please see Angel Studio's Terms of Service for the official description of the contractual rights and obligations of Angel Collectible Scene ownership.
Your choice to Pay It Forward funds future seasons and keeps Angel Studios free around the world.